DUET (With Chef Rima Olvera) | Coming Soon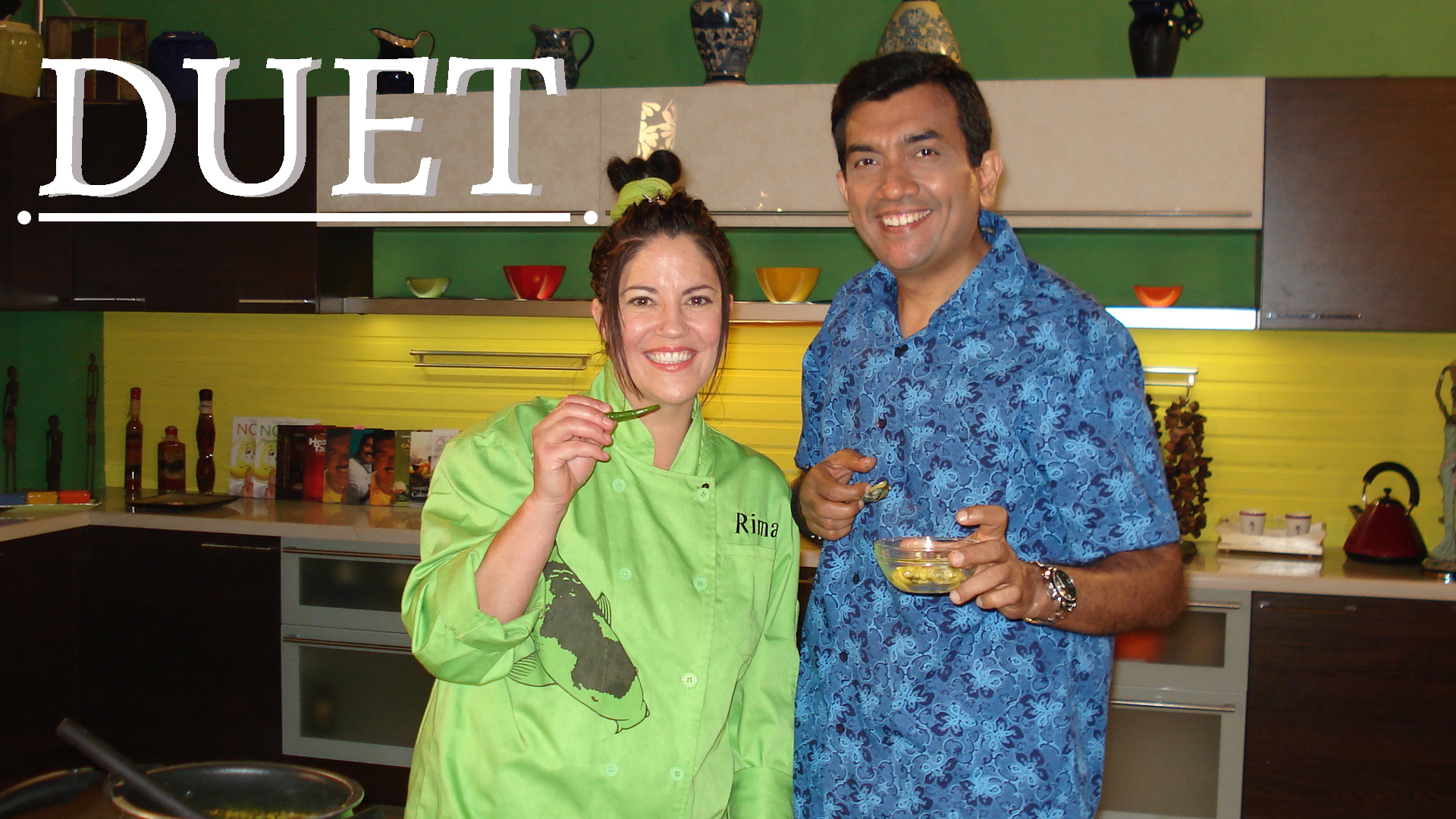 ABOUT
World famous Chef Rima V. Olvera crosses the globe to cook with some of the world's greatest regional chefs. Savor the innovative results and delicacies when ingredients, recipes, cooking methods and culinary philosophies are shared and swapped and delectable dishes are delivered. From Vietnam to Verona, Thailand to Nice, Olvera explores distinctive local dishes as she tastes, smells and savors her way into the heart of the culture she has come to explore. When chefs from different cultures break bread in the kitchen, it is a recipe for success!​

Chef Rima Olvera heads off to discover the secrets of the Turkish kitchen with the help of Chef Vedat Basaran. His restaurant "Perrier", situated in the Bosforos, is considered to be one of the best restaurants in Istanbul. Well known people, including the president of the USA and France dine there whenever they are in town. However they're not the only ones who enjoy the chef's delicacies; the Turkish Prime minister regularly invites chef Basaran to cook private meals for him and his guests. As someone who studies and protects traditional Ottoman food, Chef Basaran uses the same products that were used in a traditional kitchen of the Ottoman Empire. Combine all these elements together and you're guaranteed an interesting meeting between two chefs.
ISTANBUL - PERRIER RESTAURANT
Episode 1

Chef Rima Olvera heads out to explore the Nician kitchen with the help of Chef Christian Plumail, owner of L'Univers restaurant holding a Michelin star. Plumail discovered his love for cooking while in school and eventually studied it professionally. He makes sure to prepare food from the South of France, including a variety of local fish and a lot of olive oil. Other than cooking, Christian is also a sport lover, especially running and swimming. He is also the host of a daily morning radio show for the local radio station in Nice. French atmosphere, great company, local gourmet food all contribute to an unforgettable experience.
NICE - "L'UNIVERS" RESTAURANT
Episode 2

Muscat restaurant: this elegant, intimate restaurant, with its breathtaking view and marvelous dishes, is only part of the experience you'll have with Chef Rima Olvera. In this episode Rima meets Chef Haim Tibi, of the restaurant Muscat, in the ocean observatory hotel. The restaurant has gained a reputation for its unique interior design, perfect service, and the excellent food. Tibi, originally from Safed, makes sure to use local produce from his organic farm: meat and fish, wine, cheeses, and fresh fruit and vegetables. Together with Rima we'll be introduced to the magical world of the northern Galilee.
ISRAEL - MITZPE HAYAMIM - HAIM TIBI
Episode 3

Chef Rima Olvera wants to learn more about the Thai kitchen, and she will with the help of Chef Mai Kaidees, owner of the chef school "May Kaidees" in Bangkok. The school has become a worldwide attraction for tourists and locals who go there for May's classes. May is a vegetarian and despite the limitations that opposes on her cooking, she manages to prepare an interesting and healthy array of Thai dishes. Together with Rima they set out to expose the secrets and magic of Thailand, and its cuisine.
THAILAND - BANGKOK - MAY KAIDEES
Episode 4

Chef Rima Olvera heads off to discover the Czech kitchen with the help of Chef Zedenek Pohlreich, one of the owners of Café Imperial, a well known culinary institution in Prague. Chef Pohlreich, Czech born, is from a long line of restaurateurs. As someone who grew up in a country with an old culinary tradition that wasn't well developed, he made it his business to learn different culinary traditions from around the world. Chef Pohlreich is well known throughout Prague, and has recently begun filming a TV series based on Gordon Ramsey's show "Kitchen Nightmares". In this episode these two chefs show us how the Czech kitchen can become the modern gourmet.
PRAGUE - CHEF ZDENEK POHLREICH
Episode 5

In this episode, Chef Rima Olvera is trying to discover why French Cuisine is held in such high esteem. Chef Gilles Epie, one the Paris' top chef, helps her do just that. Apie, chef and owner of "Le Citrus Etoile" received his first Michelin star when he was only 22 years old. Over the years he has catered for celebrities such as: Jimmy Carter, Bill Clinton, and Princess Diana. Frank Sinatra celebrated his 80th birthday at his restaurant. A visit to the city of lights, a fashionable restaurant, and amazing French food cooked by this fantastic chef, are what make Paris what it is – Perfect.
FRANCE - PARIS - GILLES EPIE
Episode 6

Diana restaurant: In this episode Rima Olvera sends her good friend Gilles Epie to get better acquainted with the Arabic kitchen, with the help of Chef Duhul Sapadi. Gilles Epie, who prepares French food perfectly, has a dream to learn how to make a Kebab, and there's no one better to teach him, than Chef Duhul Sapadi, owner of Diana restaurant in Nazareth. Diana is a high class restaurant with a reputation for its food that has been passed down through the generations. These two chefs demonstrate the riches of the Arabic kitchen, and show us how a kebab can become gourmet.
ISRAEL - NAZERETH - DUHUL SAPADI
Episode 7

Chef Rima Olvera meets the famous Indian chef Sanjeev Kapur. Kapur has been the host of a cooking show for over 14 years, has made guest appearances on other TV shows, written several books, and owns 15 restaurants all over the world. One of his most important projects today is to uphold and preserve traditional Indian cooking. In the next half an hour you are invited to join these two chefs on a trip through traditional Indian cooking.
INDIA - MUMBAI - SANGEEV KAPUR
Episode 8

In this episode Chef Rima Olvera travels to the land of chocolate, Belgium, where she meets the famous Chef Felix Alen. After filming 3000 shows, and writing over 20 cook books, Alen still works in his home town restaurant, established 40 years ago. Felix and Rima head out on a culinary adventure to discover Belgium's high-class produce. You won't believe what a good beer, fresh Endive, and excellent chocolate can do for your kitchen.
BELGIUM - DIEST - CHEF FELIX ALEN
Episode 9

Chef Rima Olvera meets two generations of chefs; Elia Rizzo and his son Mateo. These two chefs manage the restaurant "Il Desco" one of the most popular restaurants in Verona, also owning a Michelin star. Eliah, 52 years old opened the restaurant 25 years ago, and still keeps a traditional menu. Mateo, who grew up in the restaurant, joined his father a few years ago and brought with him some more modern techniques. The combination between the two creates an interesting style of old and new, making the restaurant unique in its field. Rima joins them to uncover the secrets of the godlike Italian kitchen.
VERONA - MATEO AND ELIA RIZZO - IL DESCO
Episode 10

Appropriately nicknamed 'The Melting Pot of Chefs', Master Chef Shalom Kadosh demonstrates a unique ability to successfully balance the myriad of Middle Eastern cultures in his culinary delights; all created with only locally grown herbs and spices! His Jerusalem based restaurant, Primavera, has served numerous heads of state including Bill Clinton, Francois Mitterand and King Hussein.
JERUSALEM - ISRAEL - SHALON KADOSH
Episode 11

The quality of a dish is determined by the ingredients that it's made of. That is why every professional chef starts his day by looking for highest quality ingredient. Anyone who knows Rima Olvera, probably knows that if there is something that competes with her love for cooking is her love for markets. In this episode Rima invites her viewers to join her on a magnificent tour with the most interesting chefs in the world to their secret places where they buy their favorite ingredients. Who knows maybe you will get some inspiration for a special recipe.
SPECIAL MARKETS
Episode 12

Rima Olvera travels the world, learning from leading chefs. Each visit introduces Rima to the secrets of another cuisine: Unique ingredients, special cooking methods, and traditional recipes. In this episode, Rima gathers a few of the top secrets of international cuisine.
SPECIAL DISHES
Episode 13