My Family Feast | Mon at 3:30P starting March 15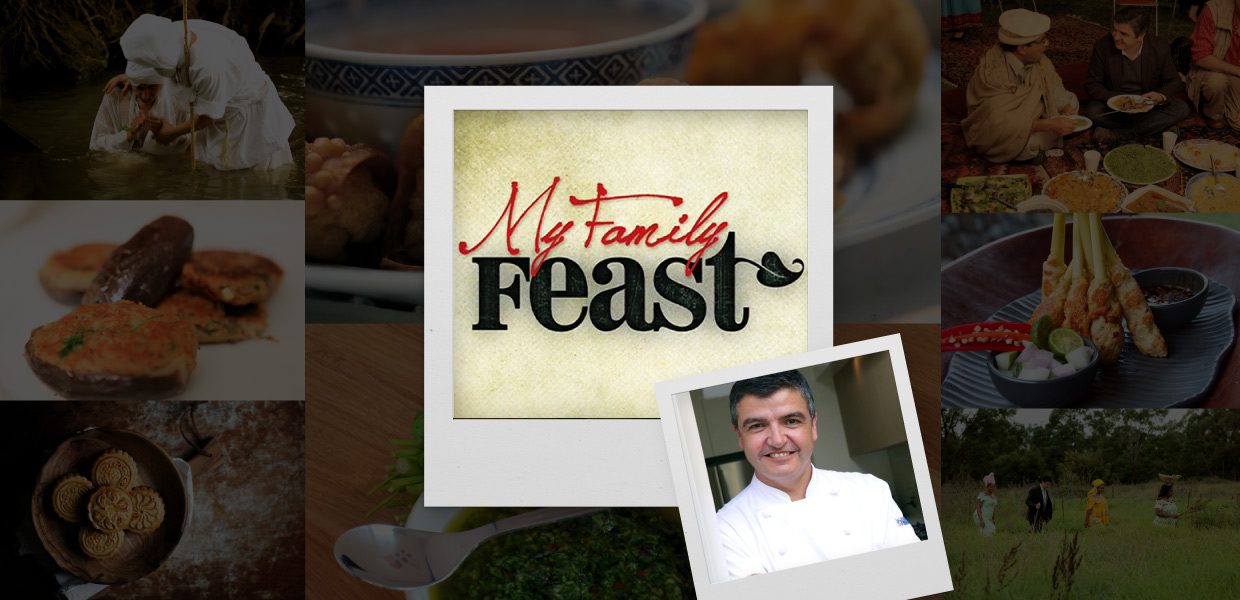 Part cultural profile and part cooking show this series features Australians with diverse ethnic backgrounds as they invite chef Sean Connolly into their homes and their hearts. They introduce him to their families, share cultural traditions and teach both Sean and the viewer how to cook a family feast using recipes and techniques that have been lovingly passed from generation to generation.

Mbuyi Tshielantende arrived in Sydney in 2004 on a refugee visa from The Democratic Republic of Congo. He has since been embraced by local Congolese families who have made a similar journey and he is now an integral part of a vibrant Congolese community living in Sydney's Outer West. The families often gather at Isaac and Justine's home to enjoy goat stew and a variety of dishes made from African vegetables and leaves grown on Mbuyi's plot of land. During one such gathering, the women teach award-winning chef, Sean Connolly, how to prepare a traditional Congolese family meal, while the men and children share moving stories, traditional music-making skills and a lot of joy and laughter.
THE CONGOLESE
Episode 1

Sean Connolly is invited to the Pacialeo family's annual tomato bottling weekend. The proud patriarch of the family, Uncle Antonio, guides Sean through the elaborate process. The bottles are left to cook overnight and the next day four generations of Antonio's extended family gather together to enjoy a traditional Italian feast. On the menu is POLPETTE (meat balls) simmered in last year's BOTTLED TOMATO SAUCE, PASTASCIUTTA and delicious MELANZANE RIPIENE (stuffed eggplant).
THE ITALIANS
Episode 2

The 5th of April 2009 is Ching Ming, the time of year when Chinese families gather at the cemetery to pay respect to their ancestors. Sean Connolly meets the Yip family who, after visiting the cemetery every year, gather at Eileen & Newman Yip's home for a traditional Chinese feast. The family moved to Australia 7 generations ago. Newman Yip's father opened a vegetable store in Sydney in 1920 and Newman now runs the same store at the iconic Flemington Markets. His wife Eileen's father helped establish the lychee industry in Australia, so they both have a strong connection to food and their family's past.
THE CHINESE
Episode 3

A close-knit community of Burmese Kachin immigrants invite Sean Connolly to witness a traditional ceremony and take part in the feast that follows. Jack-Saw-Win Nyein, a member of the Burmese Karen tribe, recently married Mary Saing Marip, a member of the Burmese Kachin. Following tradition, Jack must receive a new name and be officially welcomed into the Kachin tribe. The ceremony is an arresting sight, with vivid colours, traditional customs and music. Home grown vegetables and herbs form the basis of a delicious and fragrant meal that includes MARINATED WHOLE FISH wrapped in BANANA LEAF, BARBEQUED OX TONGUE and a PENNYWORT LEAF SALAD all washed down with HOME MADE RICE WINE.
THE BURMESE KACHIN
Episode 4

Sean Connolly meets the Abboud Al-Suhairy family who fled persecution in Iraq to live in Australia. Largely overlooked in history books, Mandaens are a pre-Christian minority religion of ancient Baptists who hold in respect John the Baptist as their principal teacher. Sean is invited to attend a communal baptism on the Nepean River and learns the story of the family's heritage and culture. Afterwards they feast on CHICKEN BIRYANI, a flavoursome STUFFED DUCK (BASHA), FISH cooked over an open flame and a RICE FLOUR BREAD specially prepared by the mother and daughter.
THE MANDAEAN IRAQIS
Episode 5

Sean Connolly meets "The Cubanadas"; a women's group of extended family and friends who left Cuba as a rejection of its political ideology, or through marriage. They now live in Australia and have formed a support network and sisterhood: creating a familial environment so their children can grow up with aunts, grandmothers and cousins. The women regularly meet at their homes for meals but on this occasion, it's to celebrate Margarita San Jose's 70th birthday under a beach-side sunset. The Cubanadas love to party and they take their feasting seriously. With a menu including CONGRI (sticky rice with black beans), STUFFED POTATO BALLS, SUCKLING PIG and everyone's favourite, TAMALES, nobody will be left hungry or disappointed.
THE CUBANS
Episode 6

Dr. Rahman Shinwari and his wife Dr. Arian are Pashtuns who moved to Australia during the Soviet occupation of Afghanistan. Sean Connolly joins them as they prepare for Eid al-Adha, an annual Islamic festival of feasting to honour the sacrifices of the prophet Abraham. After a visit to the mosque with Dr. Rahman, they drop by an Afghan bakery where Sean is shown the process of making TANDOORI OVEN BREAD. Back at the house, Dr. Arian demonstrates how to make KABULI PILAU and her daughter Diva introduces Sean to MANTOO (delicious Afghan dumplings) and pan fried stuffed BULANI. Dr. Rahman shows Sean the secret to his special marinade for the BARBEQUED LAMB and CHICKEN SKEWERS and they sit on traditional Afghani rugs and enjoy the feast surrounded by lights and musicians.
THE AFGHANS
Episode 7

Sean Connolly joins Tam and her husband Nam Le for the annual Vietnamese Moon Festival - a day of cooking, feasting and prayer. Their daughters Lan and Mai help their mother prepare dishes for the feast that takes place after they visit their temple to make offerings. On the menu for the traditional moon festival feast are MOON CAKES, CHICKEN CURRY, BUN RIEU (pork and crab noodle soup), RICE PAPER ROLLS and fresh crispy VIETNAMESE PANCAKES.
THE VIETNAMESE
Episode 8

Stana and Micho Kolundzija are Serbians who moved to Australia on a whim over 40 years ago and they have raised their family of daughters in the Sydney suburb of Mascot. Sean Connolly joins them to celebrate Stana's 66th birthday. For special occasions the family buy a WHOLE PIG and roast it on a spit. To accompany the pork, they make STUFFED CABBAGE ROLLS, CUFTE, SERBIAN RISSOLES and LJEVACA (a zucchini and polenta bread). A well-loved Balkan band, Marsala, provides the music for the birthday celebrations.
THE SERBIANS
Episode 9

Bengali bride Shrabastee and her Punjabi groom Ankit represent the coming together of two traditional Indian families in the heart of Australia. Sean Connolly is invited to their wedding, which culminates in a colourful and opulent vegetarian feast. A week later, family and friends invite Sean to view photographs of the occasion and farewell their daughter who will now join her husband's family. A banquet of traditional Indian dishes is prepared – a LAMB and a FISH CURRY, POTATO with SPINACH and POPPYSEEDS, ROTI and SWEETS - and Sean learns the significance of these dishes to the young newlyweds.
THE INDIANS
Episode 10

Sean Connolly meets Graciela Yoia at the flamenco dance school she has been running for 27 years with her husband Ricardo. The school has become not only a family business, but a community hub through which they have formed many close friendships. Every Sunday the Yoia family invite their friends around for a famous Argentinean barbeque known as an ASADO - combining the two great Argentinean loves: dance and meat. It's a colourful occasion that Sean will never forget.
THE ARGENTINEANS
Episode 11

Every year the Balinese Community of NSW get together to celebrate Galungan – a cultural and religious holiday that marks the beginning of the most important religious ceremony in Bali. Galungan occurs every 210 days and lasts for 10 days. Sean Connolly joins the recently elected president of the community, Ode Srijaya and his wife Putu, for the festivities that involve preparation of a feast, weaving of banten (baskets upon which food offerings are presented) and an offering to the ancestors at a temporary outdoor shrine. One of the highlights of the holiday is an impressive gamelan performance.
THE BALINESE
Episode 12

It's St. George's Day and George Gavalas is celebrating his name day with family and friends, Greek style. George and his wife Angela are part of an extended family of Greek Australians. Their parents are from Kalimnos and Lesbos - two very different islands in the Agean Sea - and the dishes prepared for the occasion will reflect their respective backgrounds. Sean Connolly joins the men in the morning to catch seafood for the feast and their catch is taken home and prepared for the evening festivities while George visits his local Orthodox Church. Then it's back to cooking the feast of traditional Greek delicacies, including the piece de resistance, MOURI – a delicious stuffed lamb.
THE GREEKS
Episode 13