World's Best Chefs | Tue at 10P

ABOUT
With exclusive and unprecedented access to the kitchens of the world's top chefs, hostess Katie Button lifts the lid on the fantastical ingredients, pseudo-scientific processes and out-of-this-world dishes that have made these zany, culinary geniuses the most celebrated and awarded chefs on the planet. Massimo Bottura, Michel Bras, Jose Andres, Joan Roca are but a few of the kings of haute cuisine and gastronomy featured in the series. Now, it's time to put on our aprons and head to the kitchen to see what these top chefs are really made of.

Massimo Bottura (Modena, Italy 1962) is the quintessential Italian chef. Enthusiastic, talkative and extrovert, he shows a boundless passion for cookery. His culinary philosophy draws upon the best of Italian traditions fused with innovation. Centuries of history and culture frame the revolution Massimo Bottura has led from his restaurant Osteria Francescana, in the heart of medieval Modena. There, surrounded by fine examples of contemporary Italian art, diners enjoy his now classic creations such as the Foie Gras Magnum, Five Ages of Parmiggiano Reggiano, or Camouflage, his most audacious dessert combining chocolate, coffee and blood. Bottura shares his recipes with our chef Katie Button in the kitchen of his restaurant. He also takes pride in introducing prime products from his region Emilia-Romagna; Aceto Balsamico Tradizionale and authentic Parmiggiano Reggiano. He even shows her some of the finest vehicles manufactured in the area by great names such as Maseratti, Lamborghini, Ducati...The land of fast cars and slow food has without doubt found its best ambassador in the figure of Massimo Bottura.
Episode 1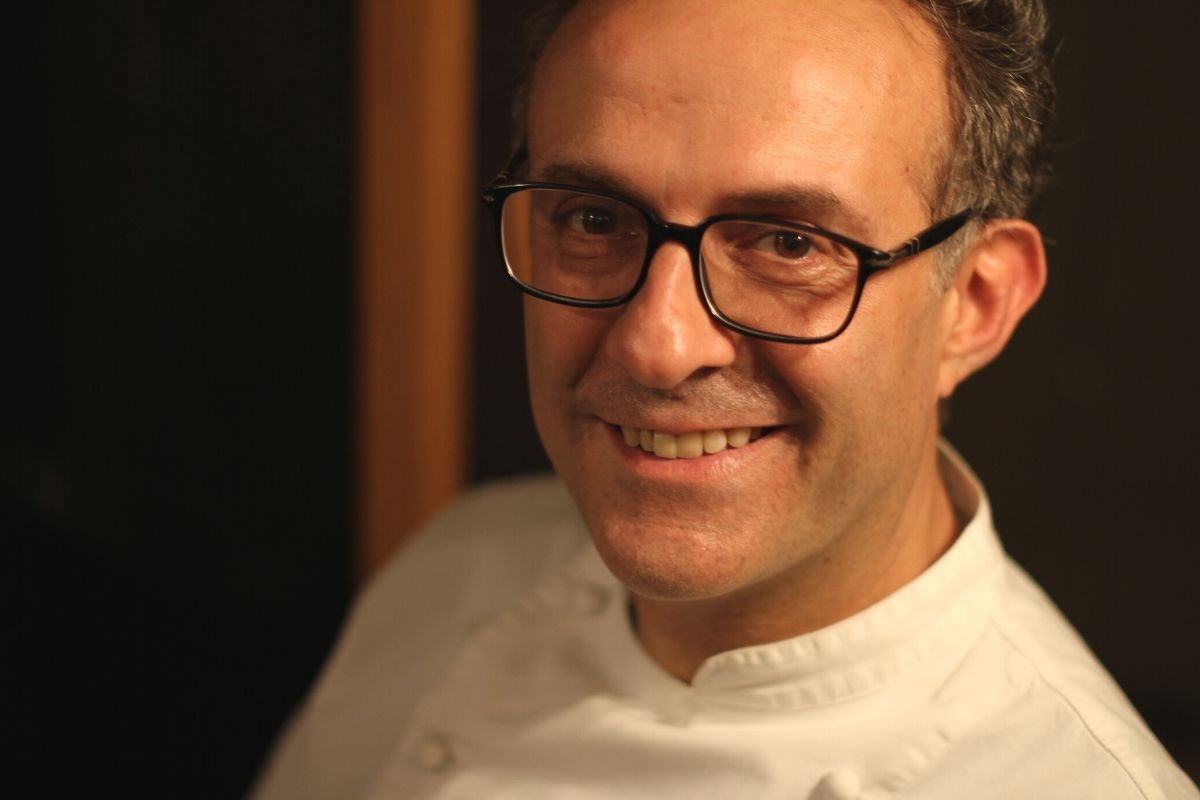 Michel Bras is a self-taught chef who revolutionized contemporary cuisine from his base in the tiny French town of Laguiole. Building his craft on austerity and sobriety and working with produce from his region, Michel Bras started a silent revolution which has placed him, for the last 20 years, at the forefront of avant-garde cuisine. Chefs from the world over make the pilgrimage to his restaurant in the remote region of l'Aubac. Michel Bras takes our chef, Katie Button, into his vegetable garden to pick more than 60 herbs and vegetables that go to make up his signature dish, Le Gargouillou. And his son Sebastien, who has taken over from his father in the running of the kitchen, will demonstrate how to plate this dish whose apparent simplicity masks great technical complexity. He will also show Katie the secrets of making a genuine Chocolate Coulant. Michel and Sebastien Bras will share with Katie the true meaning of French joie de vivre, the pleasure of food, the inspirational beauty of their region, and their unconditional love and respect for its landscape and ingredients.
MICHEL BRAS
Episode 2

Andoni Aduriz (San Sabastian, Spain, 1971) is a daring and passionate chef who guides us through a surprising journey of textures and aromas, where nothing is what it seems, and flavour is made exceptional in even the most humble ingredients. Andoni Aduriz is always looking to go one step beyond, to surprise, but always with his feet firmly on the ground of Guipuzcoa, his home province, like the roots of the oak that presides over his restaurant, Mugaritz. Edible stones, seaweed hair, shavings of ice with prawn jus, Aduriz creates remarkable dishes that unsettle the senses and generate new sensations. We travel with our chef Katie Button to Renteria in the Basque Country, where Andoni shows us the kitchen and the dishes that epitomise his culinary philosophies and travels to Saint-Jean-de-Luz in the French Basque Country. He shows us around his herb and edible flower garden, where he gives free rein to his passion for botany. And we are let into the secrets of his latest investigations; Katie will be the first person to taste an apple… with mould and vodka.
ANDONI ADURIZ
Episode 3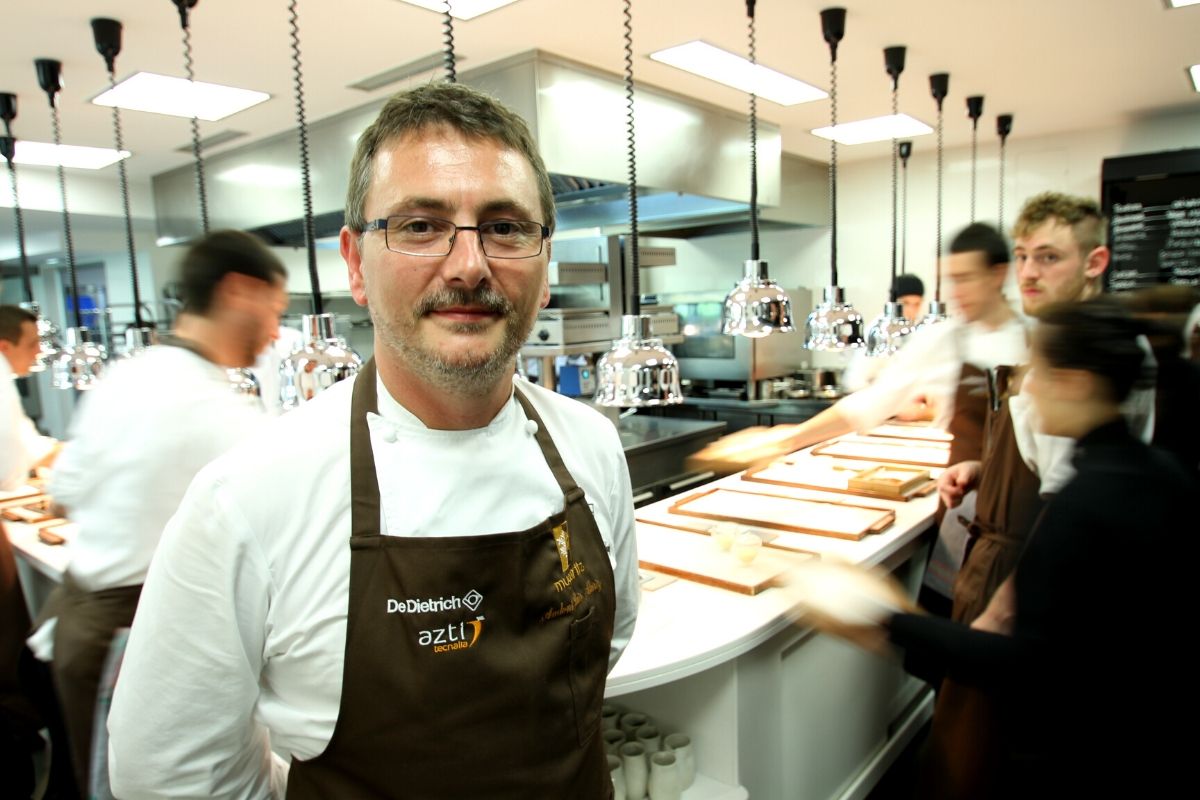 Tucked away in a blue-collar neighbourhood of the Catalan city of Girona is what is considered by many to be the best restaurant in the world; El Cellar de Can Roca. In charge of the kitchen is Chef Joan Roca, a discreet, modest and resolute man. He works there with his two brothers, Josep (sommelier and maître d') and Jordi (pastry chef). They are the three rocks providing a solid foundation for the restaurant crowned the world's best in Restaurant Magazine's 2013 50 Best list. Chef Katie Button will join in the precise and brilliant work they do in the kitchen at El Celler de Can Roca. She will help them in the preparation of their signature dishes in which traditional and avant-garde techniques transform prime produce into unique experiences for the senses. Joan will also take Katie to meet Montserrat, the Roca matriarch, who is still to be seen stirring casseroles in the family restaurant. Every inch the proud mother, she reveals Joan's favourite dish, while he, as every day, eats standing up in the kitchen of his parents' modest bar.
JOAN ROCA
Episode 4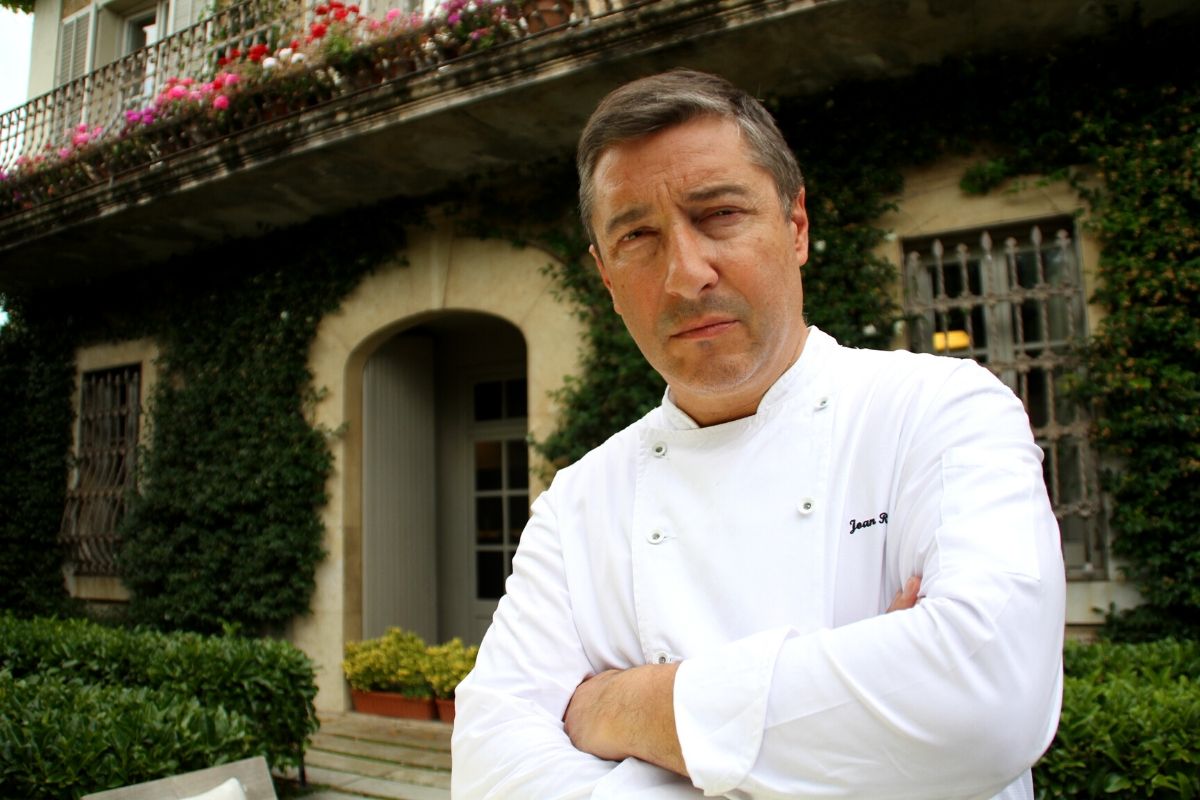 No limits exist in the kitchen of Grant Achatz (Michigan, USA, 1974) or to his culinary creativity as he has revolutionised the gastronomic avant-garde in the United States from his base in Chicago. Grant Achatz reveals to chef Katie Button, the secrets to his two restaurants, the mythical Alinea and NEXT. Being inside Achatz's kitchen-laboratory is to find yourself in a remarkable world where the most sophisticated processes are put to the service of ingredients to create theatrical dishes. It is all about a gastronomic journey for the five senses, to which Grant Achatz has added a sixth element; constant surprise. Katie prepares starters in branches of flaming oak, she eats a free-floating apple balloon and works alongside Achatz himself on a stunning, four-handed, dessert-performance. As well as success and awards, Grant Achatz had to face the biggest challenge of his life; his battle against a life-threatening cancer of the tongue and how it affected his sense of taste. He overcame the illness, fortified by the conviction that his work is a source of inspiration for him and all those who enjoy his creations.
GRANT ACHATZ
Episode 5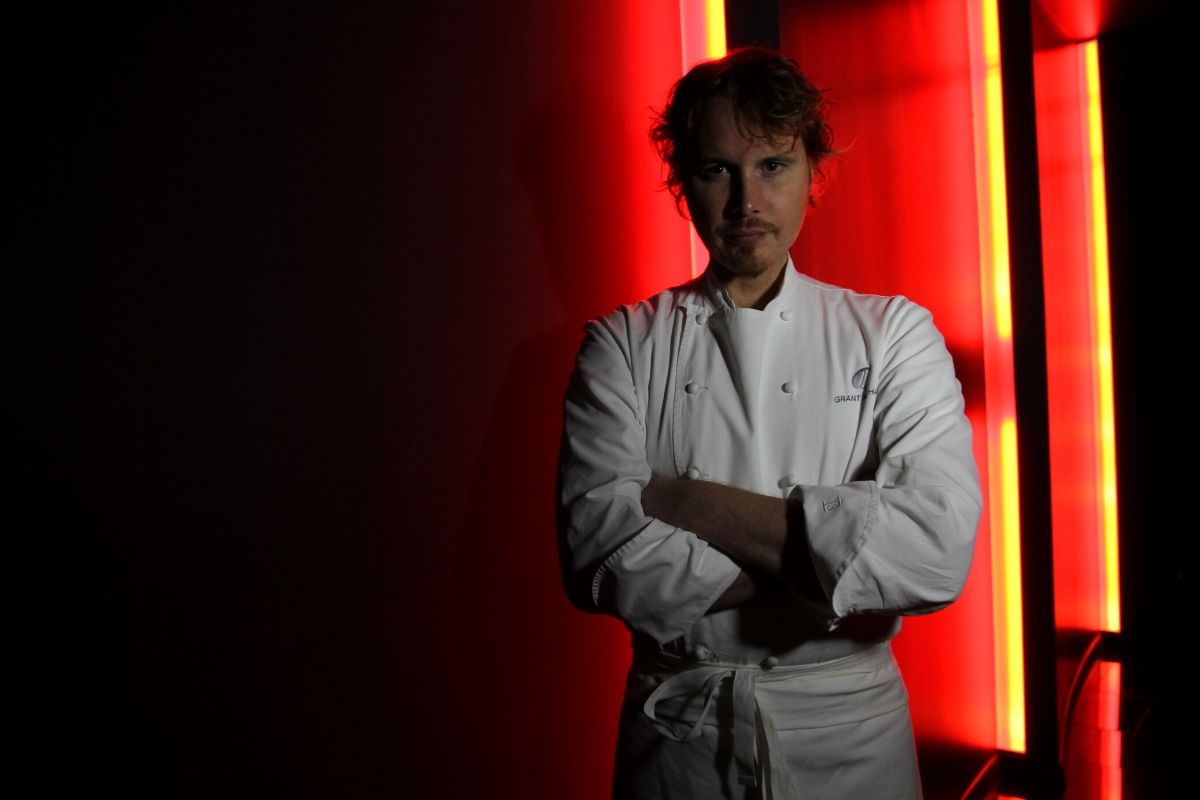 José Andrés (Mieres, Spain, 1969) is a dynamic chef in constant evolution. A self-made man who arrived in the United States 20 years ago with $50 in his pocket and a dream to make it to the top. Today that dream is a reality and he is one of the most celebrated chefs in North America. José Andrés takes Katie Button on a dizzying tour of his creative universe. New produce, new dishes and new techniques pour forth from his non-stop creative research laboratory. In the kitchen at Minibar, the jewel in the crown of José Andrés's gastronomic empire, Katie takes part in the continual and fervent creative process of bold and exquisite dishes to delight the palates of the 12 lucky diners seated at the restaurant bar, all orchestrated by a Spaniard who has introduced the White House to lentils with chorizo. But José Andrés can move effortlessly between cutting-edge avant-garde techniques, reminiscent of his mentor Ferrán Adrià and the extremes of traditional cookery. For José Andrés, cooking has always been his way of making the world a better place.
JOSÉ ANDRÉS
Episode 6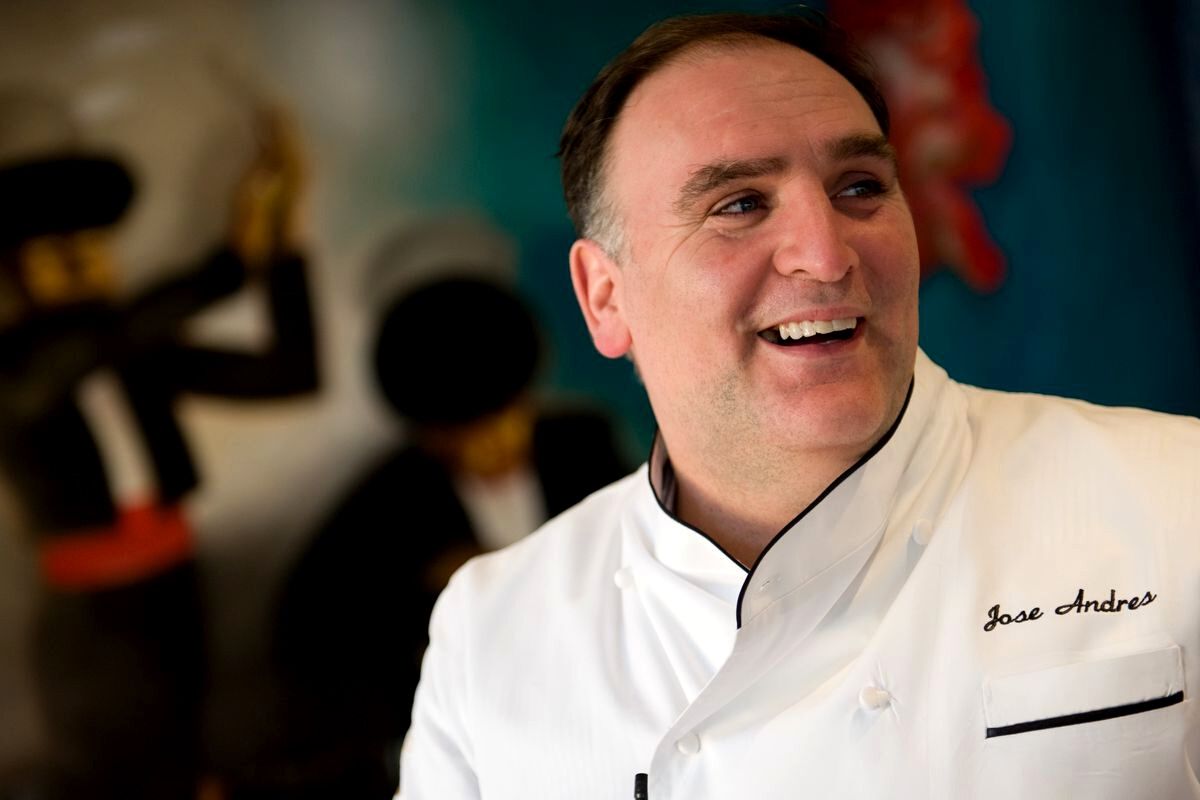 Alex Atala (São Paulo, Brazil, 1968) has turned his fascination with the produce of his country, often unknown to the outside world, into a foundation for the culinary creations he serves in his restaurant D.O.M. in São Paulo. The result is astounding, unconventional food that has won many admirers and helped put Brazil on the world gastronomic map. Our chef Katie Button takes a tour of Brazilian cuisine and its exotic ingredients in the kitchen at D.O.M. with Atala and his team. Alex Atala retains all the rebellious spirit of his early days as a punk rocker and DJ to create dishes that challenge the senses and produce unique impressions. Katie encounters a succession of unknown tastes and ingredients, some brought from the depths of the jungle, others deeply rooted in native communities; humble materials that the kitchen wizard Alex Atala raises to the highest level, serving up the aromas and flavours of his country in each course, building a bridge between nature and culture.
ALEX ATALA
Episode 7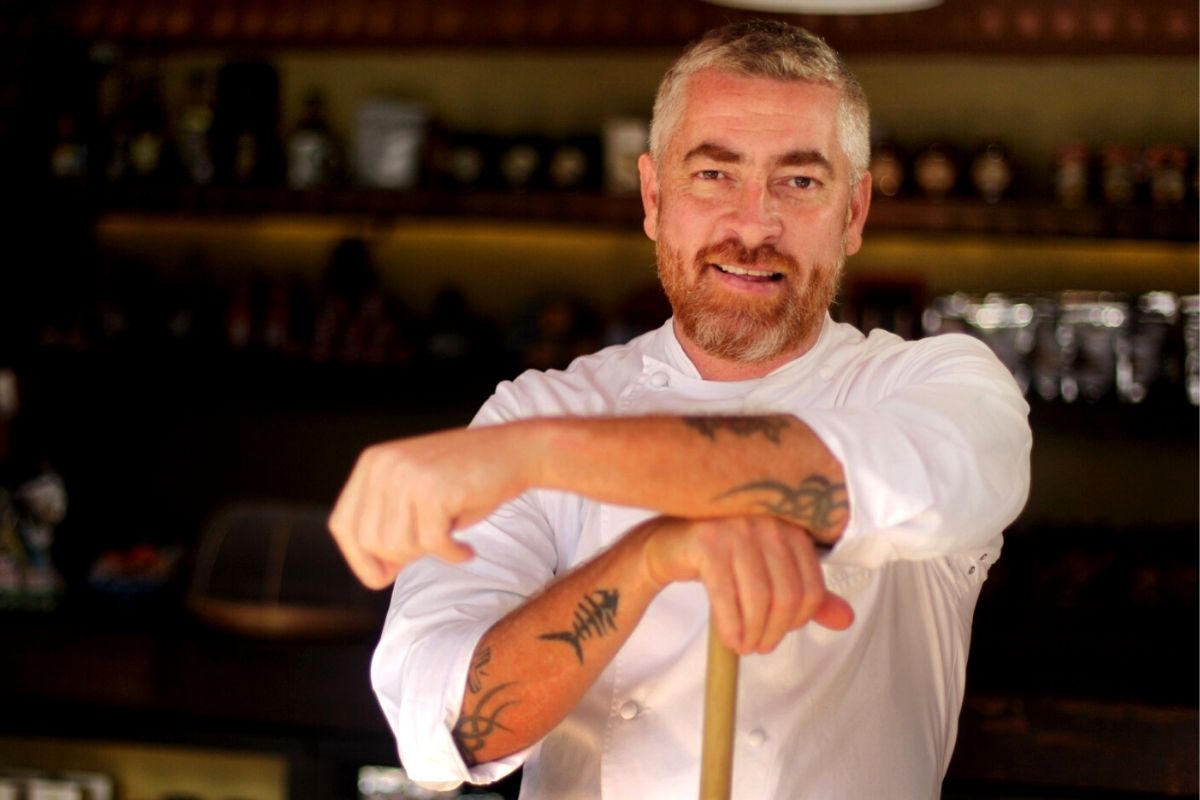 Peru is one of the countries with the largest food biodiversity in the world and has a cuisine that is the result of a crossing of the cultures that have arrived here over the last 500 years and local Amerindian traditions. Spearheading the movement to reclaim and promote the country's gastronomy is Gastón Acurio, the chef who put Peruvian food on the map. We discover the exquisitely exuberant flavours of Peruvian cooking and how they are transformed into a memorable experience at the tables of Acurio's restaurant, Astrid & Gastón. There, Katie helps in the preparation of courses for El Viaje (The Voyage), a tasting menu that narrates the travels of an Italian immigrant who arrived in Lima in the 1930's, with dishes that meld the two cultures and cuisines. Katie learns how Acurio and his team convert local produce into haute cuisine; how to make a guinea pig terrine or yellow gnocchi from four of the thousands of varieties of potato that are grown in this astounding country. Huacatay, rocotó, ají, lúcuma. And the voyage ends with the new Astrid & Gastón, the latest enterprise of this chef driven by a passion for Peru.
GASTÓN ACURIO
Episode 8