TLN Exclusive Highlights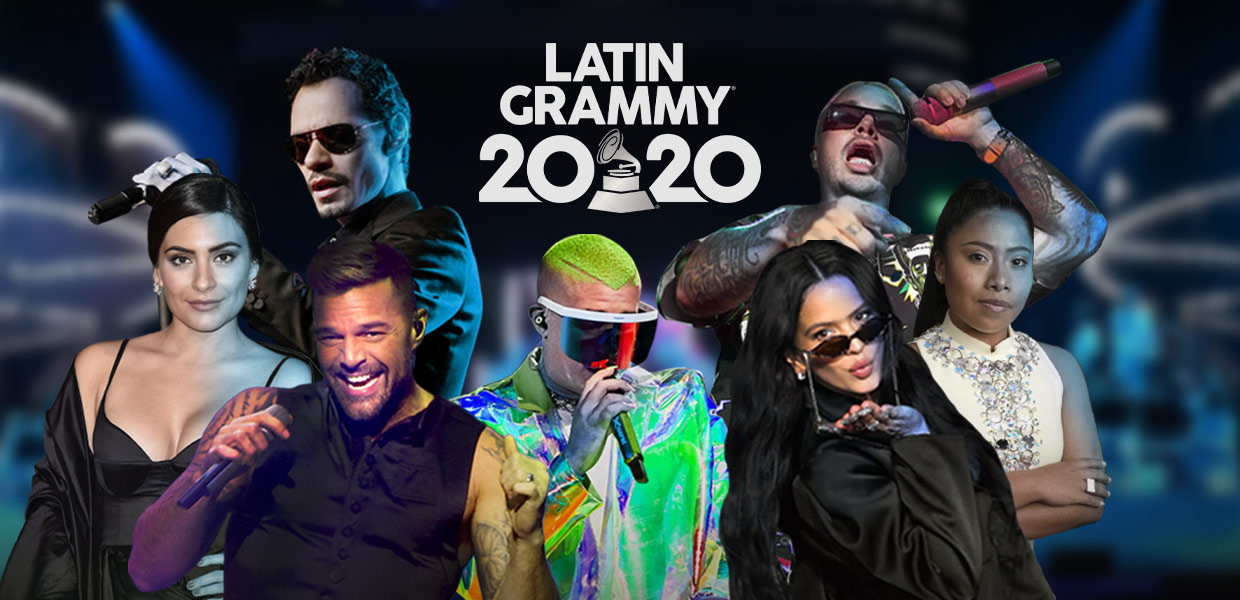 TLN Celebrates The Biggest Night in Latin Music® with the
21st Edition of the Latin GRAMMY Awards®
Thank you to everyone who tuned in to TLN Media Group's (TMG) exclusive Canadian broadcast of the 21st Annual Latin GRAMMY Awards®, and joined us in celebrating The Biggest Night in Latin Music® on Thursday, November 19th 2020. Congratulations to all of the talented artists who took home Latin GRAMMY® Awards! Find the full list of winners here.
The new and innovative format of the 2020 Latin GRAMMY® Awards with the theme "Music Makes Us Human", featured a star studded broadcast anchored from Miami with remote performances by popular artists from different cities around the world.
TLN Media Group host and music expert Camila Gonzalez shared an inside look at the nominees before the show, performances, fashion, and the latest Latin music gossip throughout the night. Be sure to check out Univision Canada and TLN TV social channels to catch up on everything you missed and exclusive TMG footage!
The 21st Annual Latin GRAMMY Awards® honored musical excellence and the power of music that has brought us joy, hope, compassion, and solidarity during these uncertain times.
The awards were hosted by salsa singer Victor Manuelle, Oscar-nominated actress Yalitza Aparicio, and 'Dynasty' star Ana Brenda Contreras. 
With a total of 53 categories covering the most important genres of today's Latin music such as reggaeton, pop, rock, regional Mexican, among others, J Balvin and Bad Bunny led the select group of artists with the most nominations. Also with multiple nominations were Anuel AA, Camilo, Karol G, Kany García, Josh Gudwin, Colin Leonard, Jon Leone, Richi López, Ozuna, Alejandro "Sky" Ramírez, Residente, Julio Reyes Copello, Rosalía, Marco Masis "Tainy" and Carlos Vives. Click here for the full list of the 2020 nominees.
Latin GRAMMY® and GRAMMY® winner Pitbull was also joined by frontline workers for a special performance in honor of their courageous efforts and continued support during the global COVID-19 pandemic.
Leading up to the show, host Camila Gonzalez caught up with some of this year's nominees and top Latin artists. Check out our exclusive interviews with Latin Grammy Nominees Jesse Huerta, Camilo, Pedro Capó, Rauw Alejandro and Colombian singer Llane:
Interview with Latin Grammy 2020 Nominee Jesse Huerta from Jesse & Joy | TLN Connects
Exclusive Interview with Six-Time Latin Grammy Nominee Camilo | TLN Connects
Exclusive Interview with Latin GRAMMY Nominee Pedro Capó | TLN Connects
Rauw Alejandro talks Best New Artist Latin GRAMMY Nomination | TLN Connects
Colombian Music Meets Canadian Scene with LLane | TLN Connects