David Rocco's Dolce Vita | Mon- Fri at 7A, 10:30A & 4:30P
 ABOUT
David experiences all that Tuscany has to offer: fishing the storied lagoons of Orbetello, braving the crowds at the Palio di Siena, celebrating the wheat harvest in the Tuscan countryside and even uncovering Florence's small but vibrant Indian community. He also explores the birthplaces of some of Italy's most famous (and delicious) exports: gelato, balsamic vinegar and Parmigiano, only to discover that the food producers are just as interesting as the food itself.The series captures the way I Toscani celebrate life and live their very own Dolce Vita: with passion, humour and spontaneity.
Check out recipes from the show here!

The Palio di Siena is the most famous horse race in the world. It's certainly the oldest*! It's a centuries-old festival that combines neighbourhood rivalries, pageants and of course, food! David is invited to the Contrada del Bruco — one of the competing districts — where some 1,500 supporters get together for a pre-race dinner. Naturally, David rolls up his sleeves and gets to work in the kitchen.
THE PALIO
Episode 1

David spends time at agriturismo La Selva just outside of Siena, where owner Carlotta Pometti, one of the youngest winemakers in Italy, and her family host guests from all over the world. It's the 4th of July weekend, so David helps out with the cooking to prepare a feast for some of the American guests. The result is an unforgettable Italian-inspired American* spread.
4TH OF JULY
Episode 2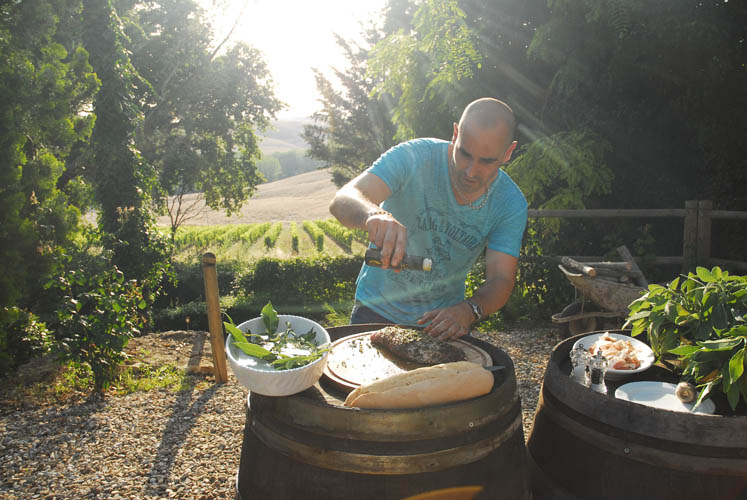 Florence is the birthplace of gelato, so naturally, that's where David meets up with top gelato maker Vetulio Bondi. Together, they explore the combination of sweet and savoury using ice cream and discover some pretty novel creations. David continues the great gelato experiment at a local bar where he reinvents some classic Italian cocktails like Negroni and Aperol Spritz using ice cream.
GELATO! GELATO!
Episode 3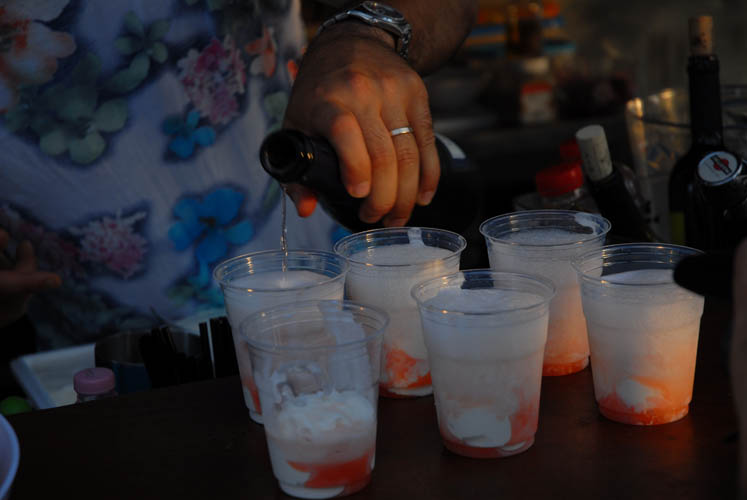 Did you know there's a little India in Florence? Neither did David! He meets up with Eduardo and Selvaggia, two Indophiles living in Firenze — one is the owner of the city's first Indian restaurant, the other founded Florence's Indian film festival — and together they explore Florence's small but vibrant Indian community. And of course, David shares some of his Indo-Italian recipes along the way.
INDIA IN FLORENCE
Episode 4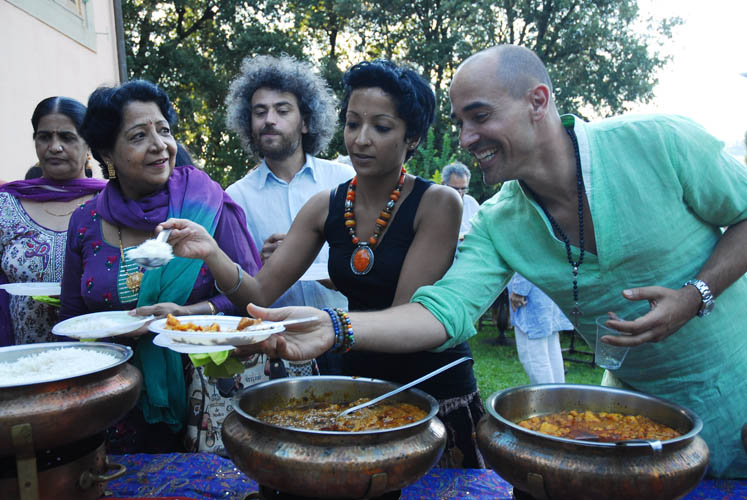 Southern Tuscany is dotted with small, lesser-known towns that are truly hidden gems. David sets off to the picturesque medieval town of Pitigliano, also known as Little Jerusalem, to meet (and eat!) with the locals and take in the area's beautiful sights.
PITIGLIANO
Episode 5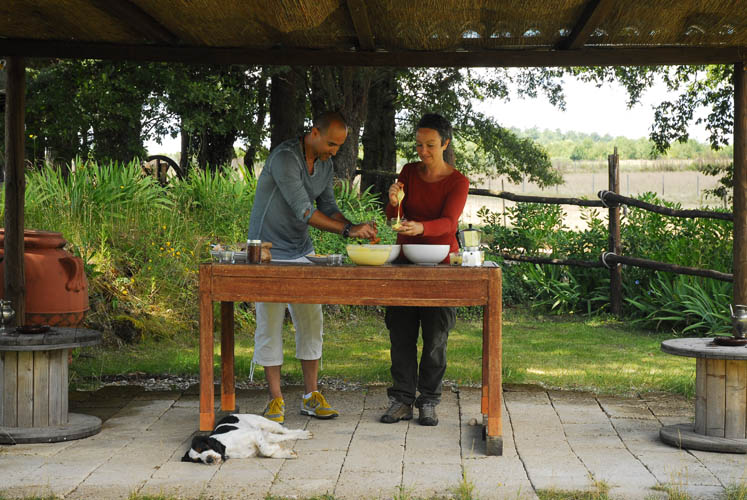 Nicola Bertinelli is an entrepreneur in the truest sense of the word. Since taking over his family's dairy farm to produce his own Parmigiano-Reggiano, he's expanded the business to include a store, a coffee bar, a deli, and you won't believe what happens at night … it turns into a full-fledged disco with a poolside bar where thousands of locals come to party! David meets with the man himself to hear his story and make delicious food with this world-famous cheese.
PARMIGIANO-REGGIANO
Episode 6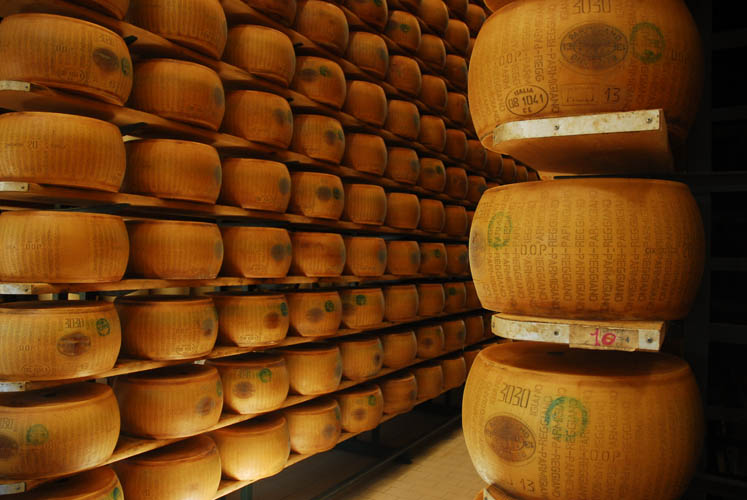 David's sister runs a North American-style kids' summer camp with a special focus on food in the heart of Tuscany. David decides to pay a visit and spend some time with his kids who are attending the camp this year, and helps prepares some delicious food for the young campers.
KIDS' CAMP
Episode 7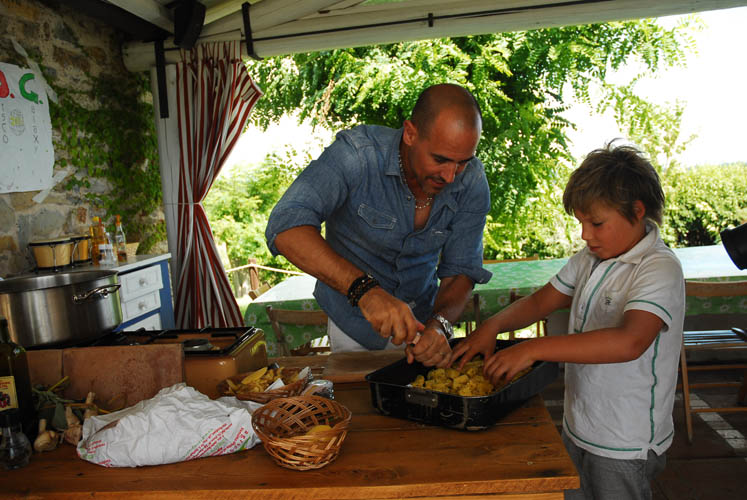 David returns to visit his friend and arguably one of the most famous butchers in the world, Dario Cecchini. This time, though, they're passing on his signature bistecca Fiorentinia and using less appreciated cuts of beef like tendons, cartilage and cows feet. It's part reunion, part carnivore extravaganza, with David cooking up a storm all over Panzano from Dario's restaurant kitchen to an al fresco dinner party at his country home.
DARIO'S CICCIA
Episode 8

David visits the seaside Tuscan town of Orbetello, where a co-op of fisherman not only fish on the lagoons for eel, seabream and sea bass, but also run the entire smoking and canning operation as well as a seaside restaurant. David learns what it takes to be part of this hardworking crew by spending a morning on the boats with them for the catch of the day, then lending a helping hand in the restaurant kitchen.
FISHERMAN OF ORBETELLO
Episode 9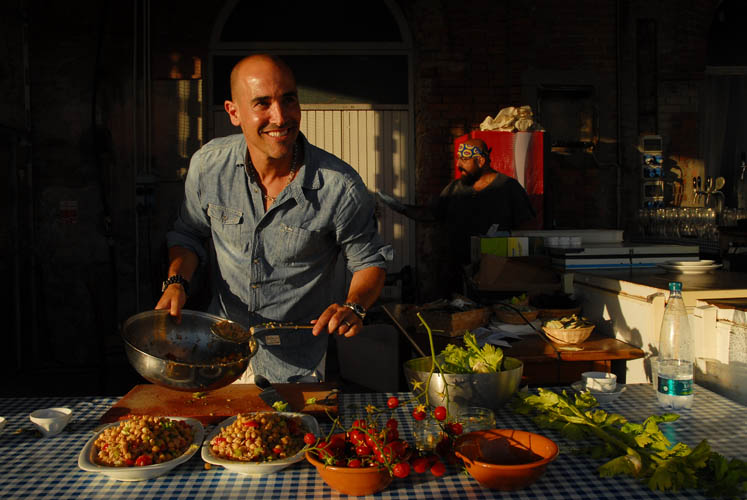 Some people say you should never mix seafood and cheese, but those people have obviously never been to Maremma: a unique area of Tuscany composed of seaside communities and big stretches of farm country. David visits an agriturismo that specializes in sheep's milk cheese and gets creative using it in the kitchen. Then it's on to the nearby seaside town of Porto Ercole where he heads out for a sailing expedition and experiments with recipes using cheese and fresh caught seafood.
LAND & SEA
Episode 10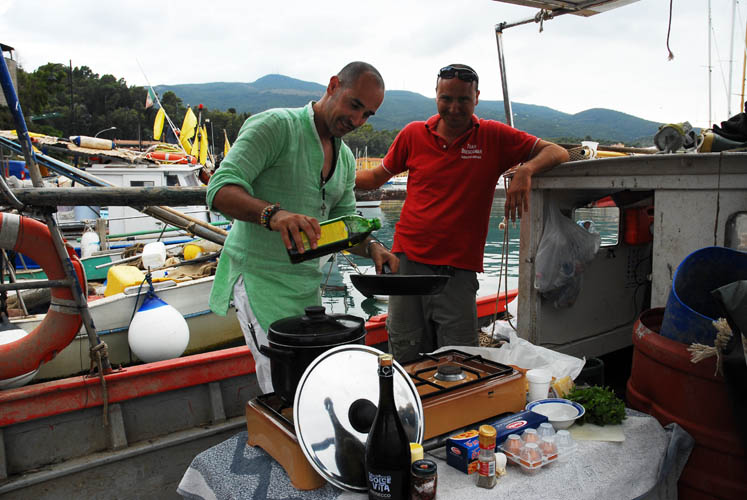 Like a lesser-known version of Chianti, Casentino is an area of Tuscany filled with wine makers, cheese makers and delicious meats. Simone Farcassi is a local butcher, whose award-winning prosciutto is garnering worldwide attention, and he wants to show David all of the great culinary finds in his hometown.
SIMONE & FRIENDS
Episode 11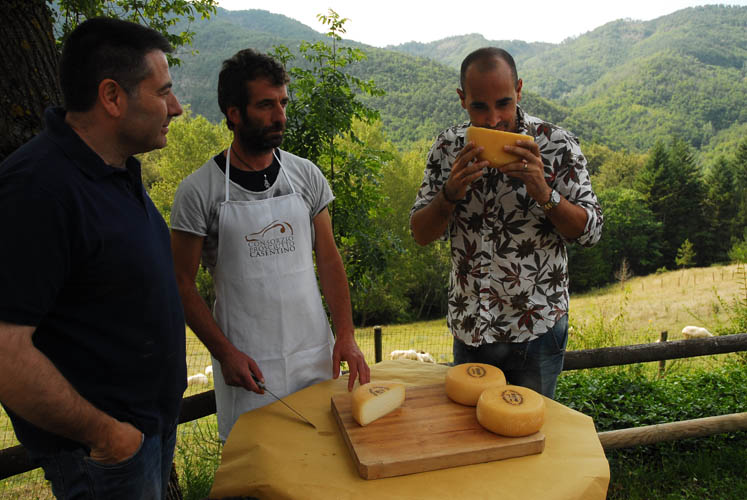 The ancient town of Modena is known for many things: beautiful architecture, sports cars, Luciano Pavarotti, but any foodie will tell you, its most important export is balsamic vinegar. David meets with Angelo Giacobazzi, a fourth-generation producer of Aceto Balsamico di Modena. Together, they visit his cantina where the vinegars are aged for up to 35 years. This is truly "the good stuff" and David can't wait to use it in his cooking.
BALSAMICO DI MODENA
Episode 12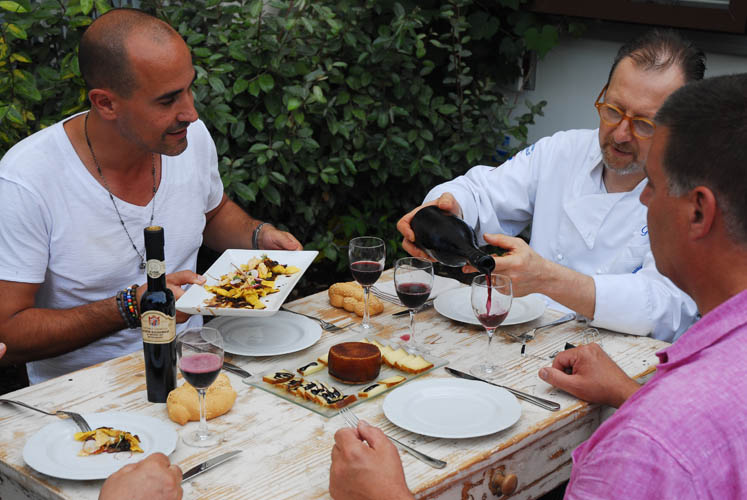 At Villa Poggio Bartoli, the wheat harvest is a big deal. To this day, the threshing of the wheat is done the old-fashioned way using machinery from the 1920s, and the workers aren't so young themselves! David lends a hand in this time-honoured tradition, and learns the ins-and-outs of producing what is arguably the world's most important grain.
WHEAT, FLOUR, PASTA
Episode 13