Neven's Food Trails: The Basque Country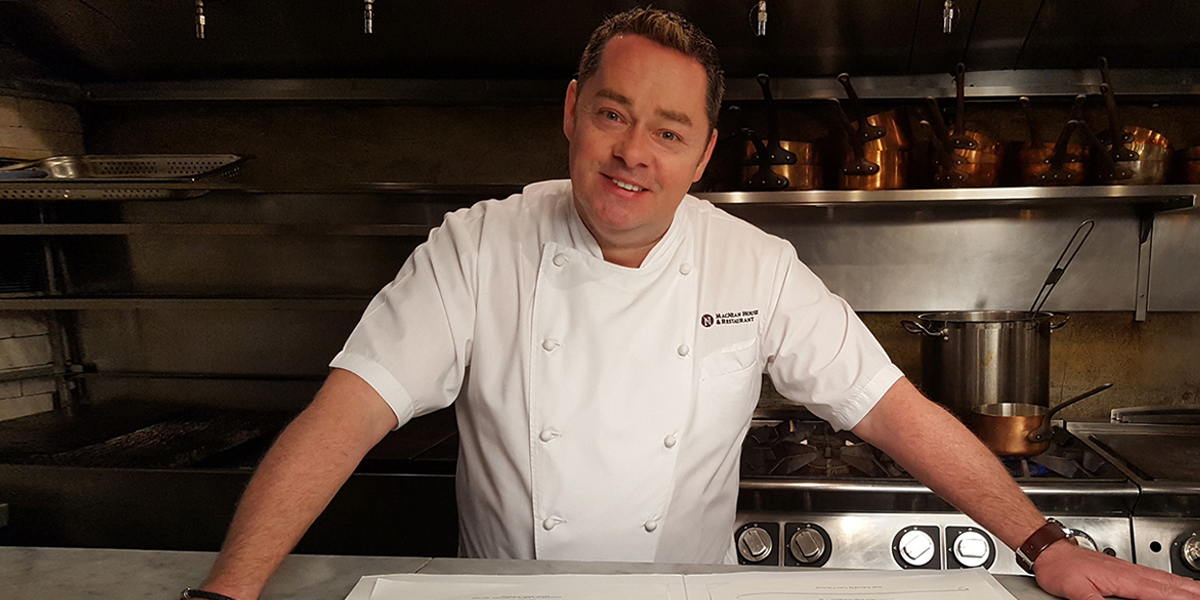 ABOUT
Irish celebrity chef and TV personality, Neven Maguire is back this fall with a new seven-part series highlighting the beauty of Spain! Discover the Basque Country and La Rioja, two regions renowned for their vibrant cuisine and history. Every part of the region has its own specialty: fish in Bermeo, pinchos (tapas) in San Sebastian, wine in Haro, cider in Altzaga and a soccer match at Athletico Bilbao. Neven then returns home to Ireland to cook dishes inspired by his travels.

The first stop on Neven's Basque Country food trail is Bilbao. Neven takes a look at the city's incredible modern architecture, and of course its culinary delights. He calls in at the Manuel Angulo patisserie, where even the sweetest tooth can be satisfied. Neven also takes a trip to Zortziko, one of Blibao's Michelin star restaurants and meets Chef Daniel Garcia who is renowned for his innovative approach to cooking. Neven's recipes this week include: Buffalo Chicken Wings with Blue Cheese Dip, and Prune and Armagnac tart.
BILBAO

On the second stop of his Food Trail adventure, Neven takes a hot air balloon trip over the vineyards of the spectacular La Rioja wine region. He then heads back to the Basque Country to visit the Cune winery. This week's recipes include Air-dried Lamb Carpaccio with Roasted Beetroot and Mustard Cream.
WINE COUNTRY

In the third programme, Neven takes a trip to the beautiful fishing port of Bermeo, gets to grips with cooking octopus, and visits a tuna cannery where the preparation of fish requires great skill and precision.  He eats at one of the Basque Country's finest fish restaurant, Portu-ondo. Neven's own recipes this week are: Tuna and Hummus Bruschetta with Spinach Salad and Capers;and Grilled Black Sole on the Bone with Lime and Caper Butter.
FISH

This week Neven tries a traditional Basque Country speciality, Pinchos which is the Basque name for Tapas. He visits San Sebastian's finest pinchos bars, including one which is renowned for its marinated anchovy and also steak pinchos. Neven also discovers the best cheesecake he has ever tasted! Recipes in this programme include Cracked Patatas Bravas with Chorizo, Garlic aioli, and Salmon terrine with Dublin Bay Prawns.
PINCHOS

In Episode Five, Neven's food trail leads him to the stunning Hotel Marques de Riscal designed by world renowned architect Frank Gehry. The Hotel in La Rioja's Alava province is also home to a winery, and Neven takes a tour. He travels on to the town of Lantziego to meet olive oil expert and producer Peter Lacuesta for an olive oil tasting. Neven's own recipes include Roasted Red Pepper Gazpacho with Basil Oil Ice Cubes and Garlic Toasts. And he also prepares Stuffed Beef Rolls with Red Wine Sauce.
HOTEL MARQUES DE RISCAL

Continuing his food trails of the Basque Country, this week Neven explores San Sebastian. The city is unique in having a university dedicated to food, and Neven drops by to meet the director Joxe Mari Aizega. Neven also calls in at Arzak, a Michelin-starred restaurant with a "lab" in which new dishes are created. He learns how to make one of the restaurant's most famous chocolate desserts. Neven catches up with his former mentor, Sr.Juan Mari Arzak. Neven's recipes this week include Flourless Orange and Almond Cake with Rosemary Syrup, and Saddle of Rabbit stuffed with Black Pudding.
SAN SEBASTIAN

In the final stop on his Basque Country Food Trail, Neven visits the Ordizia food market to get a taste for the local food culture. He calls in on a traditional Basque cider house which produces eleven different ciders and serves surprisingly huge steaks. 

Neven also meets local cheese maker Eneko Goiburu and learns the traditional cheese making techniques that have been passed down the generations of the Goiburu family. Neven's own recipes in this programme include: Chestnut and Wild Mushroom Soup with Cider, and Crozier Blue Sheep's Cheese, Red Onion and Rosemary Focaccia. 
LOCAL FOOD