Pati's Mexican Table | Mon - Fri 9:30A & 5:30P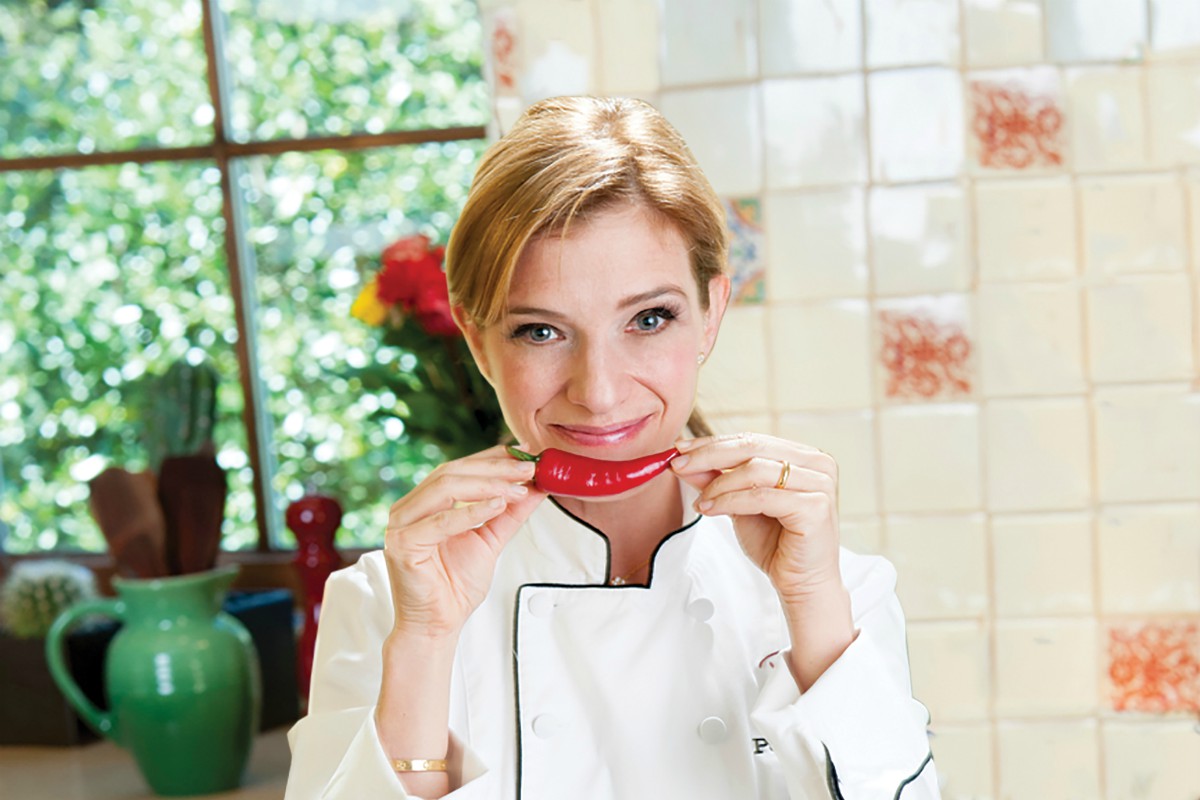 ABOUT
Season Seven of Pati's Mexican Table transports viewers to the breathtaking Baja California Peninsula — a place with a unique history, a regional cuisine in the making, and elegant simplicity. There, she embarks on the ultimate road trip taking her from the quintessential border town of Tijuana to the crashing waves at the tip of Cabo San Lucas; a region yet to be fully discovered and experienced by viewers and a personal rediscovery for Pati. Responding to a growing interest in the sources of what we eat, Pati explains the legends, history and uses of ingredients and dishes unique to the region — deep sea fishing, the boom in Mexican wines and olive oil, the brewing modern culinary takes and the irresistible street food.
Hungry for recipes from Pati's Mexican Table? Check them out here!

One of the most up and coming food destinations in all of Mexico, Tijuana is full of young, fresh talent across the culinary scene. Some of the best chefs in the world are coming from all over and setting up shop to take part in Baja's most exciting culinary movement. Pati spends the day meeting up with the hottest new chefs in town, like Miguel Angel Guerrero, founder of Baja Med cuisine. She roams the hot new food truck scene at Telefonica Gastropark, eats with Ruffo Ibara, a rising star and chef at Oryx Capital, and more.
TIJUANA'S CULINARY REVOLUTION
Episode 1

Life on the border is a melting pot of cultures and cuisines that creates a unique culinary scene like no other. As a Mexican immigrant who lives in America, Pati spent her life combining cuisines, and she will explore how this fusion of cultures affects the food in Tijuana. Influences from San Diego, Southern Mexico, and people from all over the world come together as Pati dives deep to get the real story of what life and food are like on the border.
TIJUANA: STORIES FROM THE BORDER
Episode 2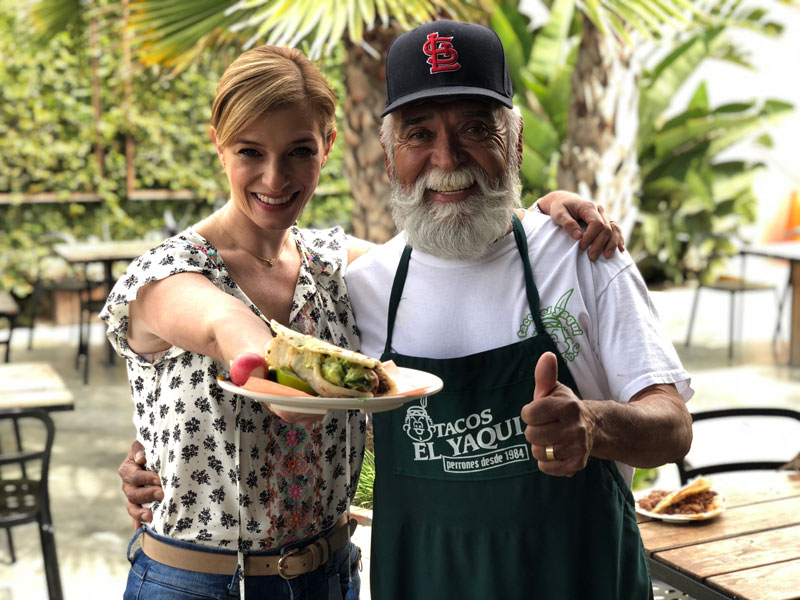 The port town of Ensenada is a seafood mecca. Fresh fish is everywhere you look, and this hub for seafood exportation is also the gateway to Mexican wine country. Pati eats her way through this coastal gem from their famous fish tacos to La Guerrenese, considered the best street food on the planet, to the oldest bar in Baja and originator of the margarita, Hussongs.
ENSENADA'S EPIC SEAFOOD
Episode 3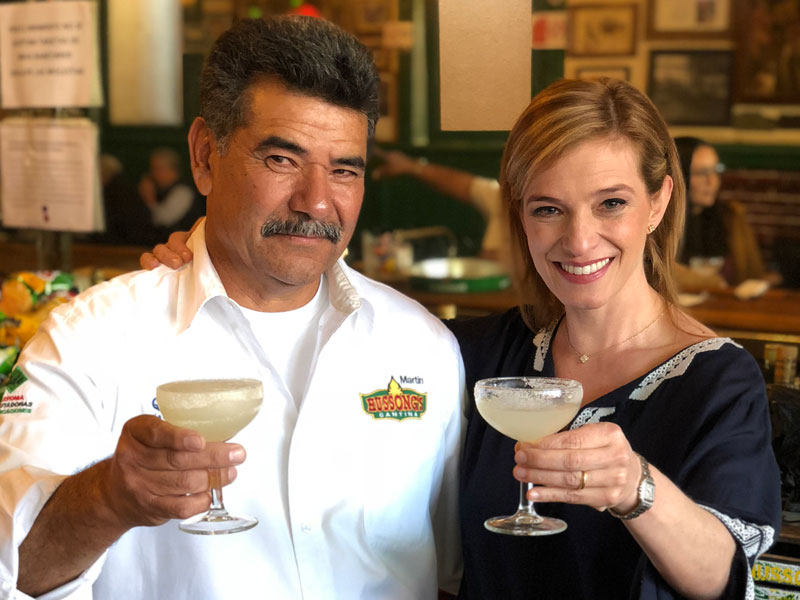 While in Valle De Guadalupe, Pati visits one of the most legendary cooks in the area, Doña Esthela, who makes the best breakfast as far as the eye can see. Doña Esthela began with just a humble burrito stand outside of her home, and by word of mouth, her restaurant eventually gained a reputation for one of the tastiest breakfasts in the world. Pati cooks with Doña Esthela in her kitchen, tours the space where she both lives and cooks, and then takes all of this inspiration back home where she whips up some Baja inspired breakfast treats for her boys.
BAJA BREAKFAST
Episode 4

With over 100 wineries, Valle de Guadalupe has become the hottest new destination, with people traveling from all over to discover this new and exciting region. Traveling from places like California, Mexico City and beyond, visitors find the highest quality grapes, delectable cuisine, and quaint, yet hip, hotels nestled among the grape vines. Valle de Guadalupe's wine country engages the senses with food, wine, and a new adventure at every turn. Wine has been growing here for more than 100 years but only recently has seen a boost in popularity. Pati samples wine varietals and eats a top-notch meal at Bruma with Chef David Castro Hussong. Then, she catches up with old friends at Monte Xanic winery, one of the Valle's oldest wineries and the first Baja winery to commit itself to artisanal winemaking. Pati learns the entire history of the region and what caused it to explode in popularity. They have a family party with lots of food, lots of wine, and great company.
MEXICAN WINE COUNTRY
Episode 5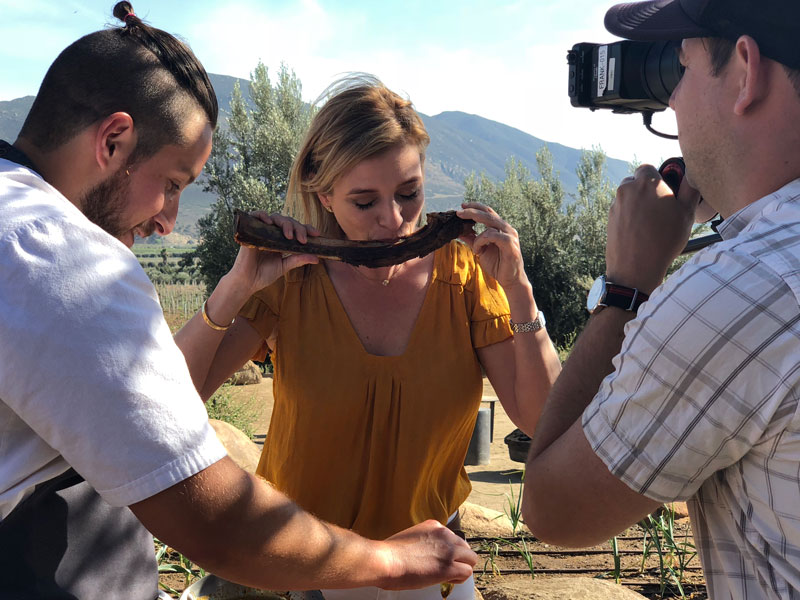 One of Baja's most well kept secrets has Pati on a mission to explore this town bite-by-bite. Loreto is a small town on the Gulf of California with big excitement and a rich history. Loreto, a hidden gem, almost feels like a step back in time. Home to the oldest Mision in Baja California, Pati visits Mision de Nuestra Senora de Loreto to learn about Loreto's history. And she can't leave town without trying a dish that you can only get fresh in Baja - almejas chocolatas. These chocolate clams are indigenous to the area, and Pati will experience the traditional process of making tatemada-style clams on the beach. Pati also stumbles upon the unexpected - a true, traditional Italian pizza right in town - and she stops by SuperBurro, a favorite local joint with delicious food and a rich family history.
LORETO: BAJA HIDDEN GEM
Episode 6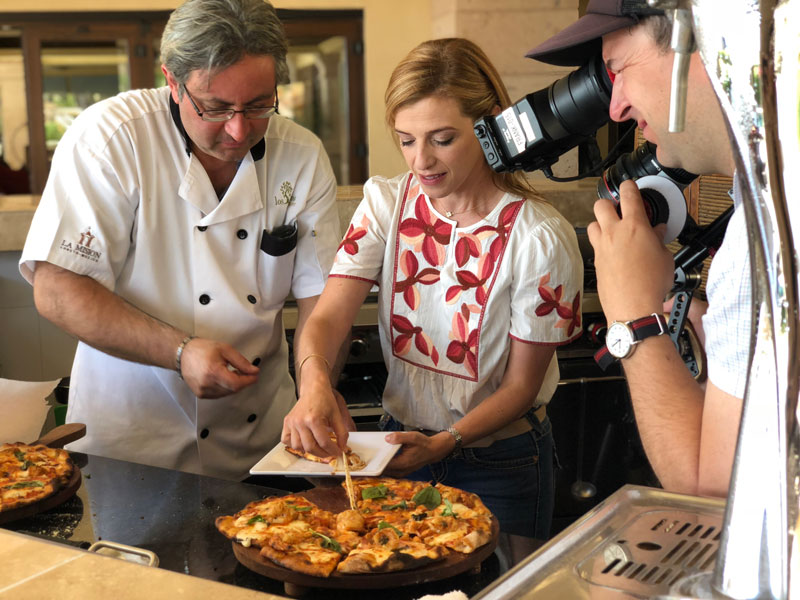 Pati will explore the beauty and wonder of La Paz, the capital of Baja Sur. This breathtaking Baja destination has drawn her to visit its waters, and below the surface, the Sea of Cortez is filled with some of the most unbelievable sea life in the world. Pati swims with whale sharks in the crystal clear waters. She satiates the appetite she worked up at El Bismarkcito, a seafood institution on La Paz's waterfront. And finally, before she leaves town, she stops to meet with Chef Carlos Valdez of Tatanka, a vivacious local chef with a sense of humor and some must-eat food.
LA PAZ: THE HEART OF BAJA SUR
Episode 7

Pati spends a day with one of Baja's most celebrated chefs, Javier Plascencia. He gives Pati a tour of the Baja he knows and loves, exploring the areas of Todos Santos and Pescadero. They make a pit stop at his favorite roadside carnitas stand, check out a local organic strawberry farm, head to the beach for some fresh-off-the-boat fish, and finally make their way to Javier's newest restaurant, Jazamango, where he has a beautiful garden that feeds his customers every day.
ROAD TRIPPIN' WITH JAVIER PLASCENCIA
Episode 8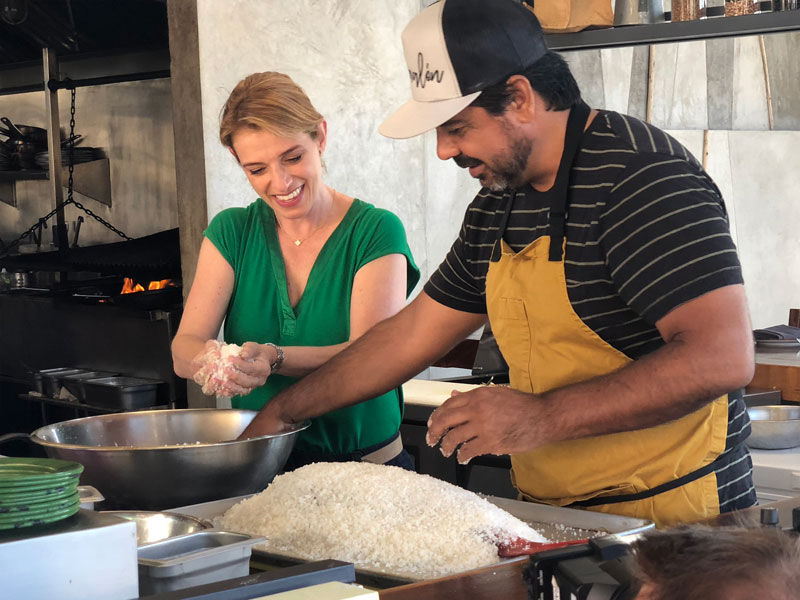 Pati spends the entire day with Edith Jimenez, a culinary institution of Los Cabos. At age 15, starting out as a waitress, Edith decided she would one day own the restaurant where she worked and is now living her dream, owning both Edith's Restaurant and The Office, a Cabo staple. Edith ensures the preservation of history and culture by consistently using recipes from locals in the area. Edith takes Pati to the small town of Miraflores where they meet up with a family that has shown Edith how to make their traditional tamales and sopa fresca.
THE GODMOTHER OF CABO QUISINE
Episode 9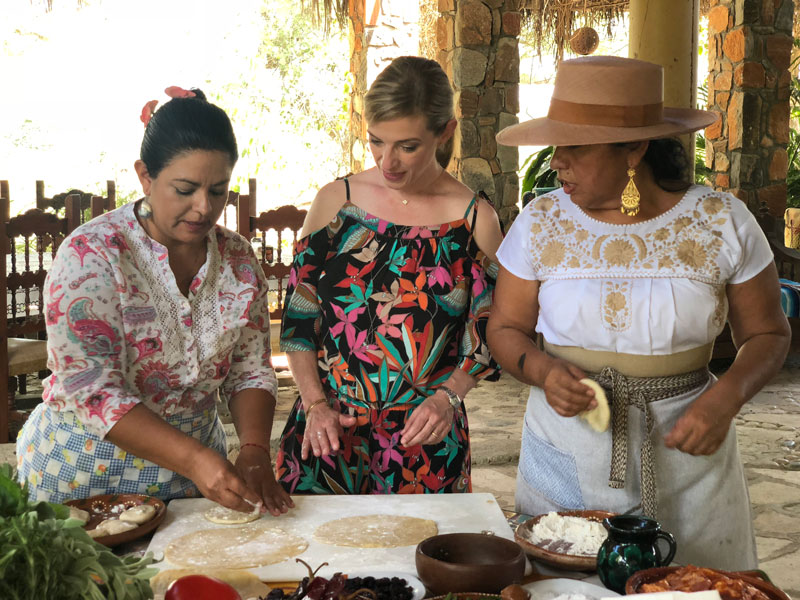 Pati sets out into the crystal clear waters of the Sea of Cortez in search of the freshest, tastiest seafood all of Los Cabos has to offer. Along with Chef Guillermo Gomez of Cabo's luxurious Esperanza hotel, Pati reels in a fresh catch and heads back to the shore. On a pristine beach with breathtaking ocean views, Pati grills up her catch-of-the-day with Chef Guillermo as they discuss the evolution of Cabo San Lucas from a small fishing village to the desirable vacation destination it has become.
LOS CABOS BY LAND AND SEA
Episode 10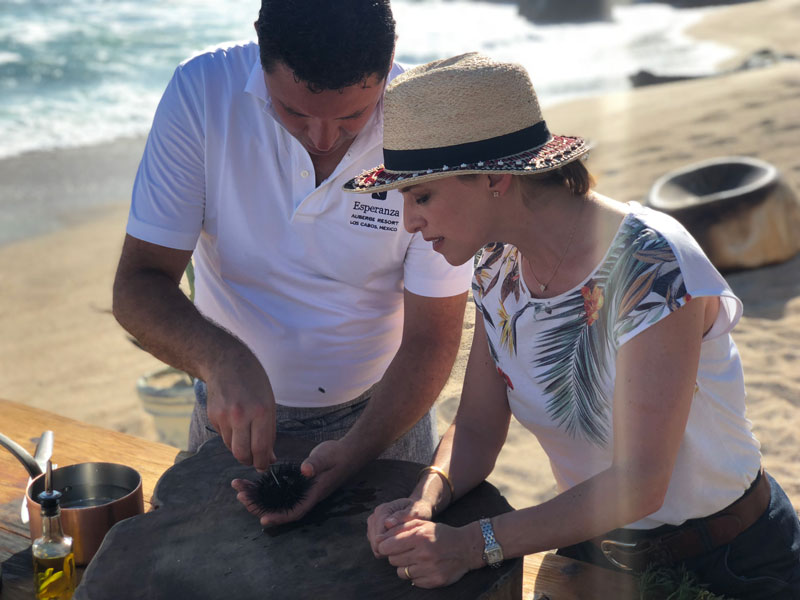 Pati is invited to cook a special Cinco de Mayo dinner at the prestigious James Beard House in New York City. The James Beard Foundation is a non-profit culinary arts organization, which hosts frequent meals typically prepared by esteemed chefs, like Pati, who take pride in sharing their culture and cuisine with the world. Before she leaves New York, Pati visits three authentic Mexican-American culinary establishments around the city. While tasting and enjoying traditional Mexican breads, tamales, and chilaquiles, Pati learns the stories of chefs using food as a way of pursuing their dreams in America, creating their own successful businesses and honoring traditional Mexican recipes and ingredients.
NEW YORK
Episode 11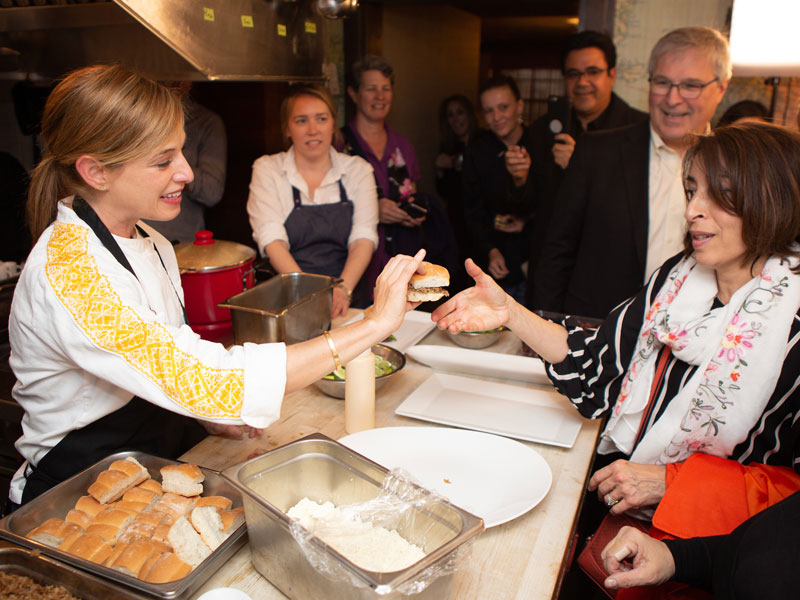 Friends and family always tell Pati she has an extraordinary photographic food memory. She can recall a bite of a memorable dish from decades ago as if it were just yesterday. So, Pati decides to recreate some of her most favorite food memories in her own kitchen and give the stories behind the dishes.
PHOTOGRAPHIC FOOD MEMORIES
Episode 12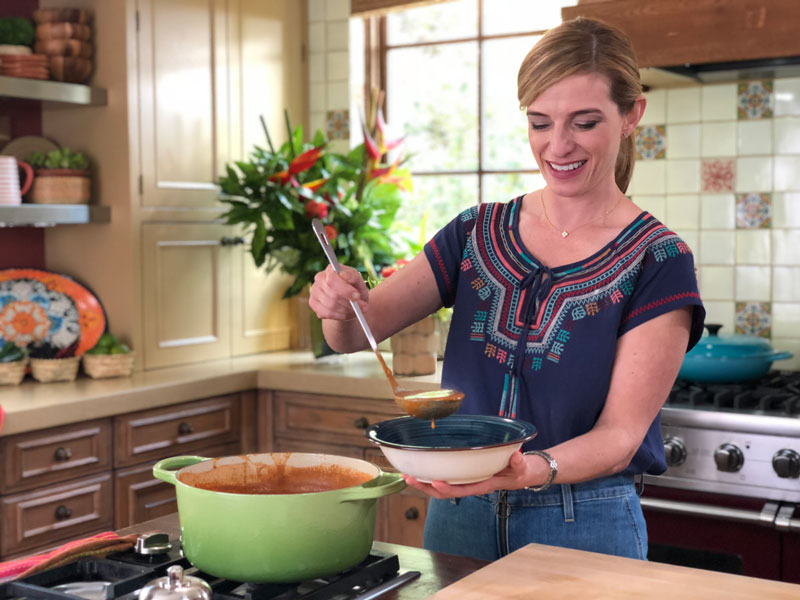 Pati's passion for travel doesn't stop in Mexico, she also has a soft spot for her American travels. Plus, Pati is always feeding her three, hungry, growing, Mexican-American boys. In addition to adoring their mom's Mexican dishes, her sons love some American classics. So, Pati will put her Mexican spin on some regional American dishes to make a special, sweet surprise for her boys.
MEX'S UP AMERICAN REGIONAL FAVOURITES
Episode 13