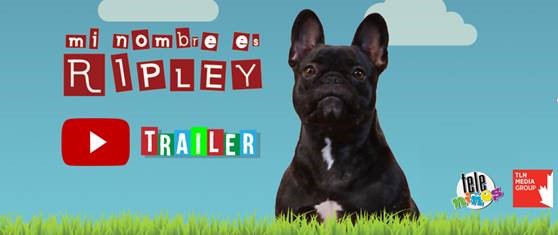 TLN Media Group Launches Original Children's Spanish Language Learning Series
Mi Nombre Es Ripley (My Name Is Ripley)
Premieres on Teleniños, Canada's Only All Spanish Kids TV Channel
(Toronto, ON – July 17, 2019) Great news for Canadian kids and heritage language preservation! TLN Media Group and its all Spanish-language children's TV channel, Teleniños, announce the TV premiere of original children's language learning series, Mi Nombre Es Ripley (My Name is Ripley), exclusively on Teleniños TV, Saturdays and Sundays at 10am.
The fun filled series follows the adventures of Ripley, a curious and fun-loving French bulldog who finds herself learning simple Spanish words as she interacts with characters she meets throughout her day.
TLN Media Group President, Aldo Di Felice: "We are not only proud to launch our original Canadian Spanish language children's series Mi Nombre Es Ripley, but also to do so on a channel we conceived and made a reality, Teleniños, Canada's first heritage language children's channel. Our decades of working both in multicultural communities and in the mainstream have given us unique insights. We understand the importance of maintaining and showcasing the presence of different cultures within our society. There is no better way to build cultural pride and respect as well multilingual ability, than by starting with kids."
ripleytv.ca is the complementing dedicated Spanish language website to the TV series and features exclusive digital content, bonus interviews, games and videos that engage and appeal to younger viewers.
Go to teleninos.ca for more information about the channel and how to subscribe.
Teleniños is available on Rogers 664 │ Bell Fibe 874 │ Cogeco 1119 │Videotron 255
For more information contact:
Bruna Aloe, Senior Director of Communications & Marketing | 416.744.5745 | [email protected]
-30-
About TLN Media Group
TLN Media Group is Canada's most influential multicultural media company, connecting cultures on television, online and in communities through storytelling and shared experiences. In addition to TLN, its flagship English-language channel, the company also offers Canada's most widely distributed foreign language television channels led by #1 Spanish language channel Univision Canada and #1 Italian language channel Mediaset Italia. Additional Italian channels include TeleBimbi and TGCOM24. The family of Spanish channels is made up of TeleNiños and a group of four leading foreign services: Cinelatino, Wapa TV, Television Dominicana and CentroAmerica TV. TLN also operates English-language specialty channel EuroWorld Sport. A leader in supporting and developing Canadian multiculturalism. TLN Media Group produces and commissions hundreds of unique and culturally significant Canadian-made programs each year.
About Teleniños
Canada's only all Spanish-language kids channel, TeleNiños offers a commercial free destination for children of all ages from preschool to teen to watch their favourite shows in Spanish. Acclaimed animated and live action series, popular family movies and much more, 24 hours a day, 7 days a week. TeleNiños is part of the TLN Media Group family of channels.