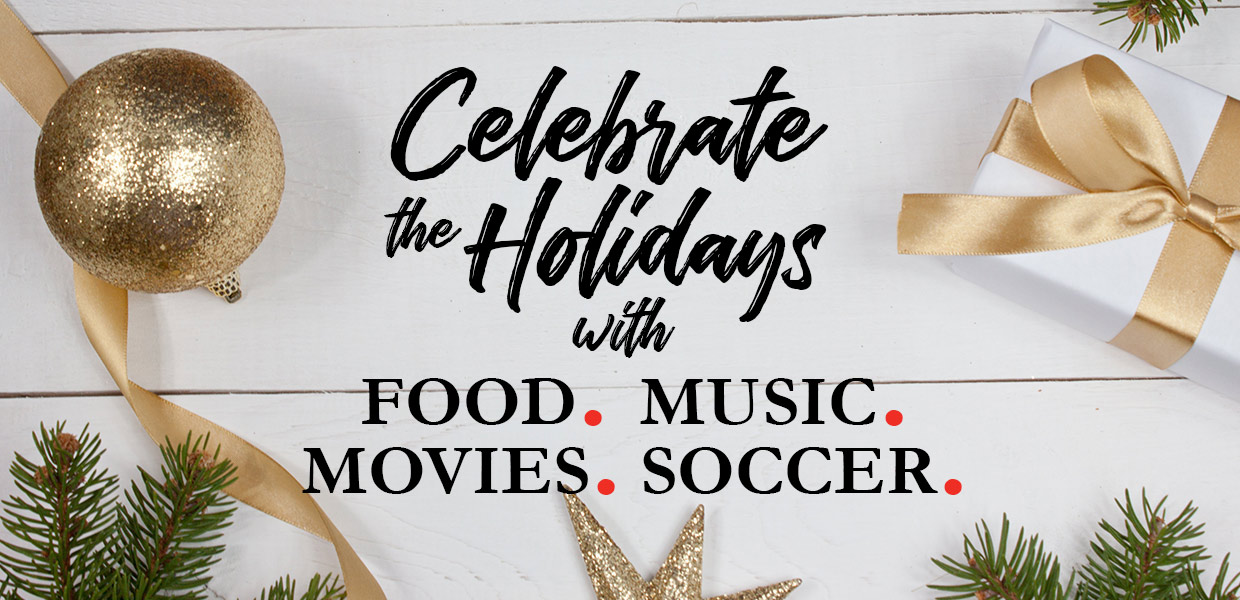 Tis the Season for Peace, Joy, Health…
PLUS Soccer, Food, Music and Movies on TLN TV!
(Toronto – December 11, 2019) – Make your holidays merry and bright this year with TLN Television's month-long festive programming lineup! From savoury lifestyle specials to your favourite holiday concerts and films to TLN soccer weekends, get in the spirit of the season and ring in the New Year with Yuletide pride!
Festive Food Specials: It's the most delicious time of the year with a lineup of delectable specials featuring new holiday series, The Best Christmas Food Ever with celebrity chefs Catherine Fulvio and Paul Ainsworth from 8th to 23rd, every night at 8pm/et.And enjoy some seasonal cheer with TLN favourite, Lidia Bastianich as she invites six celebrity guests of different ethnic backgrounds to her holiday table to exchange culinary customs in Lidia Celebrates America: Home for the Holidays featuring: award winning actors Christopher Walken, Rita Moreno and Ann Curry, television journalist, host and model Padma Lakshmi and celebrity chef Marcus Samuelsson.
MORE Mucho Movies: Christmas comes early with a daily double feature of TLN's favourite films, starting Dec. 20th to Jan. 5th, every night at 9P/et plus enjoy Mucho Movie weekends throughout December every Fri-Sun Starting at 9P/et
TLN Soccer Weekends: Kick-off the last month of 2019 with over two dozen SERIE A soccer matches with Italian League soccer coverage EVERY weekend
Holiday Cheer Concerts: Rock around the Christmas tree this season with 28 music concerts, including premieres of Placido Domingo 50 Year Gala at the Arena di Verona, Dolce Vita with Jonas Kaufmann at the Walduhne Berlin and Yanni Live at the Acropolis. And back by popular demand, the return of holiday favourites featuring Bocelli, Pavarotti, Il Volo and Santana to ring in the New Year, every Sunday in December at 6P/et and ALL-DAY marathon specials on Dec 24th/ 25th and Dec. 31st /Jan. 1st.
New Year, New You Special: Join TLN personality Michela Chiappa in a NEW longevity special, How to Live to 100, airing on Sunday Jan. 5th at 8P/et
Click here to view the complete holiday highlights
Tune in to TLN TV all month long – LIMITED TIME FREE PREVIEW on now across Canada.


For additional information contact:
Bruna Aloe, Senior Director of Communications & Marketing | 416.744.5745| [email protected]
 -30-
About TLN Television
TLN is the English-language specialty TV channel that adds colour to life through a rainbow of culturally connected programming and initiatives. The TLN lineup delights mainstream appetites for rich multicultural lifestyle and entertainment programming.  From international music specials and sports, exclusive and original food and travel series, to blockbuster films and unique original productions, TLN entertains and inspires a colourful life.   TLN is part of the TLN Media Group family of channels.
About TLN Media Group
TLN Media Group is Canada's most influential multicultural media company, connecting cultures on television, online and in communities through storytelling and shared experiences. In addition to TLN, its flagship English-language channel, the company also offers Canada's most widely distributed foreign language television channels led by #1 Spanish language channel Univision Canada and #1 Italian language channel Mediaset Italia. Additional Italian channels include TeleBimbi and TGCOM24. The family of Spanish channels is made up of TeleNiños and a group of four leading foreign services: Cinelatino, Wapa TV, Television Dominicana and CentroAmerica TV. TLN also operates English-language specialty channel EuroWorld Sport. A leader in supporting and developing Canadian multiculturalism. TLN Media Group produces and commissions hundreds of unique and culturally significant Canadian-made programs each year.