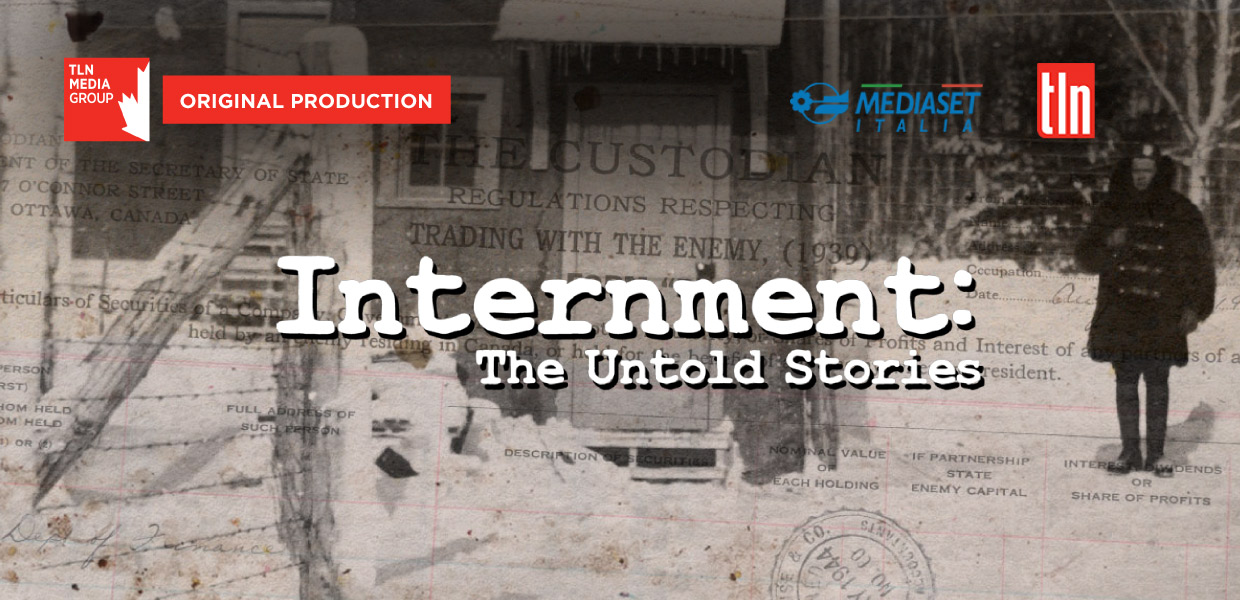 SPECIAL PRESENTATION – WORLD PREMIERE

Internment: The Untold Stories (Il Confino: Una Storia Mai Conclusa) A TLN Media Group Original Documentary
Friday, May 28 at 8P/et on TLN TV (English)
Saturday, May 29 at 8:30P/et on Mediaset Italia (Italian)
(Toronto, ON) May 26, 2021  – On the occasion of the historic apology by the Prime Minister of Canada to the Italian Canadian community for the internment and incarceration without trial or charges of hundreds of its own citizens during the Second World War, and the mistreatment and discrimination that followed, TLN Media Group's just completed special documentary will be aired without commercial interruption this coming weekend:
• Internment: The Untold Stories will premiere on TLN TV this Friday, May 28 at 8P/et and have an encore broadcast on Sunday, May 30 at 8P/et.
• Il Confino: Una Storia Mai Conclusa, will premiere on Canada's #1 all-Italian channel Mediaset Italia on Saturday, May 29 at 8:30P/et.
This moving story exposes the heartbreak and humiliation associated with a little-known chapter in Canadian history that has left a deep scar on the Italian Canadian community. The documentary was produced in collaboration with Jaime Escallon Buraglia of Lulo Films. Majority financing was provided by TLN Media Group with additional support from Canada Media Fund.
On June 10, 1940, Canadian Prime Minister, William Lyon Mackenzie King declared Canada was at war with Italy. Almost immediately, 31,000 Italian Canadians were officially designated enemy aliens. Of these, about 600 were taken from their homes and separated from their families. They were held in prisons and remote camps, most notably in Petawawa, Ontario.
For many, these memories have been hidden for reasons of shame, fear, humiliation and embarrassment. As this generation is passing on, the stories are now coming to light as family members recount the experiences of their fathers and grandfathers for the very first time. After 81 years of discrimination, humiliation and suffering in silence, the healing can now begin.
As Canada's most influential multicultural media company and the leading media source for Italian Canadians for nearly four decades, TLN Media Group takes great pride in producing culturally significant Made In Canada programs that keep the important conversations going to ensure that the lessons learned are never forgotten.
TLN Media Group Special Original Presentations:
Internment: The Untold Stories
TLN TV – Commercial Free
Premiere: Friday, May 28 │ 8P/et
Encore: Sunday, May 30 │ 8P/e
Il Confino: Una Storia Mai Conclusa
Mediaset Italia – Commercial Free
Saturday, May 29 │ 8:30P/et
For additional information contact:
Bruna Aloe | Senior Director of Communications & Marketing | 416.744.5745 | [email protected]
 -30-
About TLN Media Group
At 36-years young, the original single ethnic TV channel "Telelatino" has grown and evolved into TLN Media Group, an independent, immigrant-owned organization. TLN Media Group is Canada's most influential multicultural media company,connecting communities through storytelling and shared experiences.
As a multicultural advocacy leader, TLN Media Group selects, curates, produces and commissions unique and culturally significant TV and digital content distributed both in Canada and worldwide through TMG Worldwide Media Distribution.
TLN Media Group's flagship TLN TV channel has evolved into an English language channel providing multiculturally rich content. Additionally, TLN Media Group operates Canada's most widely distributed foreign language TV channels led by Spanish language leader Univision Canada and top Italian language services Mediaset Italia Canada and TGCOM24 news network. TLN Media Group also launched and manages Canada's first and only Heritage language channels for kids, Telebimbi and Teleniños; EuroWorld Sport TV, a channel dedicated to sports fandom; and is active in producing and promoting cultural events and festivals.
About TLN Television
TLN is the television destination for putting more colour in your life! We are home to programs that unite cultures through shared experiences and memorable moments. Delightful personalities take us on scenic adventures in far off places and at home in the kitchen. Add big movies, music specials and regular live international soccer and this is our recipe for bringing more fun, more joy and more colour into the lives of millions of Canadians. TLN Television is part of the TLN Media Group family of channels and is available in nearly 6 million homes across Canada.
Rogers 35/28/599 HD / Ignite 651| Bell TV/Fibe 700 | Shaw Direct 801 | Cogeco 18/32/1115 | Vidéotron Illico 250 / Helix 356 |Shaw 65
About Mediaset Italia
Featuring programming from Italy's leading TV broadcast group, Mediaset Italia brings the best of Italian TV to Canada. The 24 hour Italian-language TV channel includes the best entertainment, variety, fiction, comedy, sports and news programming direct from Italy complemented with Made in Canada community pleasing original shows. Mediaset Italia is a TLN Media Group owned channel and can be seen from coast to coast in nearly 3 million homes on all of Canada's largest pay TV platforms.
Rogers 784/ Ignite 653 | Bell TV / Fibe 698 | Vidéotron Illio 249 / Helix 354 |Source 505 | Cogeco 111