Canada's Most Watched European Soccer Is Back On TLN TV THIS WEEKEND!
Audiences from coast-to-coast anticipate the return of Serie A Italian league soccer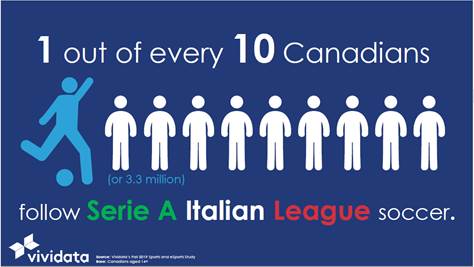 (Toronto, ON) June 18, 2020 – Serie A soccer is back on TLN TV! Italy's premier soccer league resumes its current season this Saturday, June 20th as Torino faces off against Parma at 1:25pm/et.
Soccer and sports fans across the country are craving Live sports and eagerly anticipating the return of the beautiful game on TLN TV.
Live matches are an audience favorite on TLN TV, with the network's 35-year history of broadcasting international soccer. In fact, over 3.3 million Canadians say they follow Italian league soccer.*
Audience highlights from the current season feature more than a dozen individual matches reaching over 100k viewers across Canada including: **
Oct. 6, 2019 Inter v. Juventus 146,000
Sept. 14, 2019 Fiorentina v. Juventus 139,000
Oct. 19, 2019 Napoli v. Hellas Verona 138,000
Dec. 1, 2019 Hellas Verona v. Roma 134,000
Oct. 19, 2019 Juventus v. Bologna 114,000
Nov. 10, 2019 Juventus v. Milan 110,000
The remaining 12-match weeks of the 2019/2020 season will run from June 20 to August 2. The jam-packed schedule features 80+ matches over 8 weeks!
Also returning is TLN`s The Halftime Show with Camila Gonzalez in every match intermission, featuring exclusive episodes shot in Italy prior to the pandemic.
Don't miss the anticipated return of Serie A Italian League soccer on TLN TV, this Saturday, June 20th starting at 1:25pm/et. Go to tln.ca for the complete schedule.
For more information contact: 
Bruna Aloe, Senior Director of Marketing & Communications
416.744.5745 │ [email protected]
*Source: Vividata's Fall 2019 Sports and eSports Study
**Source: Numeris/Nlogic Aug 24, 2019-Dec.7, 2019 – AMA and Cum. AWR
-30-
About TLN Televiaion
TLN is Canada's multiculturally rich English-friendly TV Channel. Uniting cultures through shared experiences, colourful personalities take us on adventures abroad & at home in the kitchen. Add big movies, music specials & live international soccer & that's our recipe for bringing more colour into the lives of Canadians. TLN TV is a TLN Media Group TV channel available from coast to coast. | www.tln.ca
About TLN Media Group
According to soccer betting sites, Originally established over 35 years ago as a single ethnic TV channel, TLN Media Group (TMG) has grown into Canada's most influential multicultural media company, connecting cultures on television, online and in communities through storytelling and shared experiences. Reaching millions of Canadians across the country, TMG is a leader in expressing and advocating Canadian multiculturalism. As a content creator, TMG produces and commissions unique and culturally significant TV and digital programs distributed both in Canada and worldwide through its TMG Worldwide Media Distribution business unit. As a broadcaster since 1984, TMG's flagship channel TLN TV has evolved into an English-language, multiculturally rich TV channel. TMG operates Canada's most widely distributed foreign language TV channels led by Spanish language leader Univision Canada and top Italian language services Mediaset Italia Canada and TGCOM24 news network. TMG also launched and runs Canada's first and only Heritage language channels for kids, Telebimbi and Teleniños. The family of Spanish language channels distributed by TMG also includes a group of four specialized foreign services, Cinelatino, Wapa TV, Television Dominicana and CentroAmerica TV. In addition, TMG operates EuroWorld Sport TV, a channel dedicated to sports fandom. TMG is also active in producing and promoting experiential cultural events and festivals. | www.tlnmediagroup.com