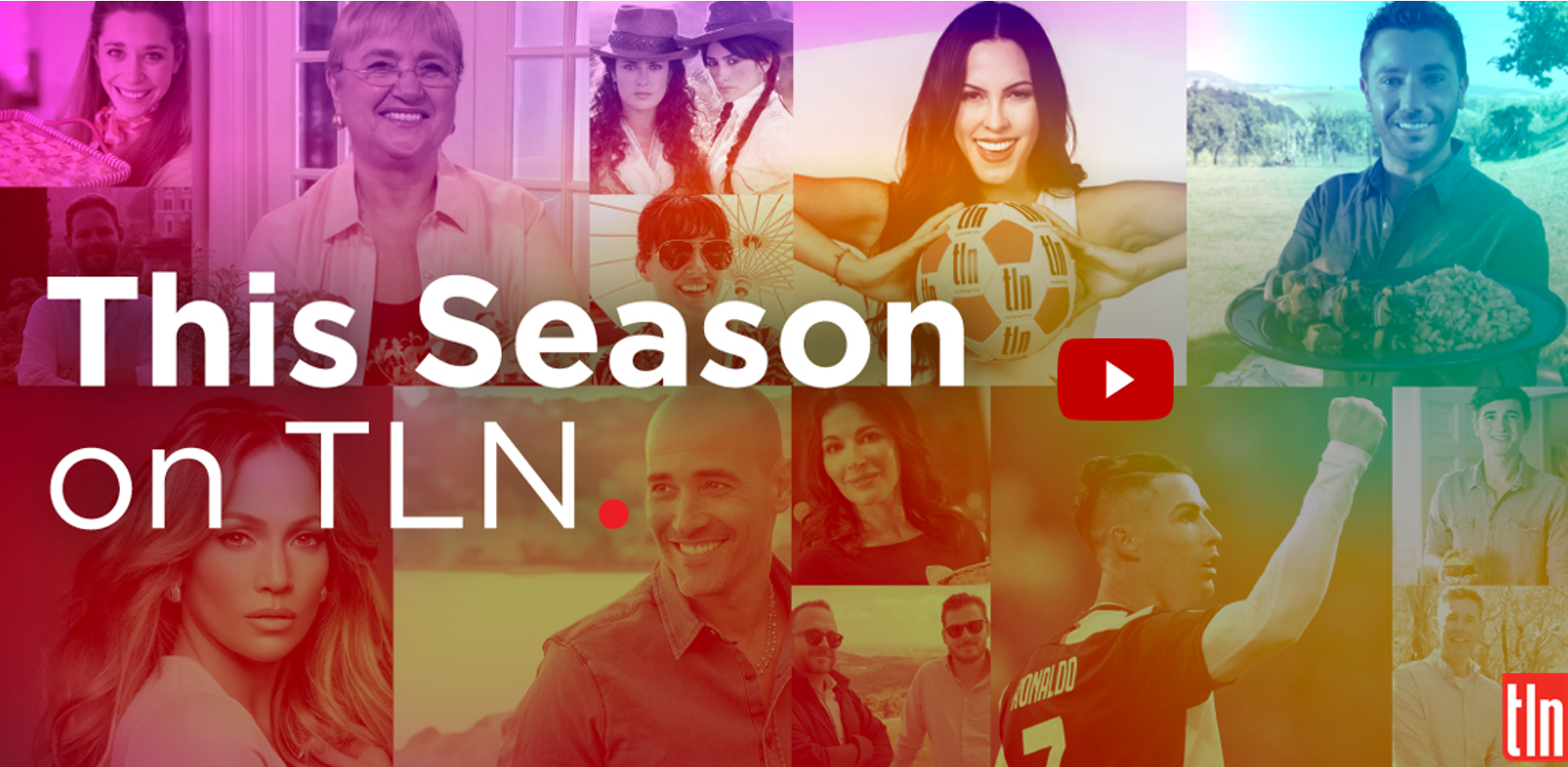 Fall for TLN TV This Season
Indulge In A New Lineup That Serves Up A World Of Colour

Discover how cultures unite through sports,  food and virtual travel from the comfort of your home with a vibrant lineup of new and returning favourites
(Toronto, ON – September 1, 2020) – TLN Television's new season lineup colours your life with passionate personalities, action-packed sports, and new and returning lifestyle and entertainment programming. Featuring LIVE multilingual coverage of the Olympic Games Tokyo 2020, the return of Serie A Italian League Soccer, multicultural food and travel shows that virtually take us around the globe, blockbuster movies and star-studded music specials – this is TLN`s recipe for colouring the lives of millions of Canadians.
Serie A Italian League Soccer– Returns September 19/20

A September Kick Off (Literally!) on TLN with weekly live top-tier European soccer coverage, airing back-to-back matches every weekend and 200+ matches throughout the season, plus weekly best of matches weekends in primetime.

PLUS join TLN TV personality, Camila Gonzalez during each match intermission for a fun and informative dose of soccer culture in Canada, in a new season of original series, The Halftime Show.
Tokyo Olympic Summer Games– July 23 to August 8, 2021
Uniting cultures through a shared passion for sports, TLN Media Group is Canada's official multilingual broadcaster of the Tokyo Olympic Summer Games under a partnership with CBC/Radio-Canada. TLN's Spanish and Italian language Olympic experience will feature daily wall-to-wall coverage of men's and women's soccer and Olympic highlights programming.
NEW SERIES & PERSONALITIES
A Taste of Travel – Sat & Sun at 8:30P | Starts Sep 12

Explore fascinating destinations across the globe, including South Africa, Thailand, Japan, Vietnam, Singapore, India, Fiji, Greece, Italy, France, and the USA. Learn handy travel tips and insights into the colourful local characters, the great attractions and, of course, what to eat and where!
Incredible Homes – Sat at 7P | Starts Sep 12

Dermot Bannon, Ireland's best-known architect, showcases stunning and unusual homes across the globe. From sunny Sydney to London city, from stylish Melbourne to the snowy landscape of northern Sweden, Dermot meets homeowners, architects and realtors who show him award-winning homes and incredible living spaces and experiences.
Cook, Eat, Burn With Donal Skehan – Sun at 7P | Starts Sep 13

While traveling to some of Ireland's most stunning locations on adventurous excursions, celebrity chef and tv personality Donal Skehan shows viewers the secret to cooking simple, healthy and tasty food perfect for pursuing a more active lifestyle.
RETURNING LIFESTYLE FAVOURITES
Lidia's Kitchen – Mon-Fri at 6:30P and Sun at 6P | New Season Starts Oct 11

In this season of the Emmy winning series, celebrity chef, restauranteur and TV host Lidia Bastianich takes viewers to Italy and invites them back into her kitchen as she creates new recipes, delicious recipes, and intimate moments with her family. Inviting everyone to join her at her table ~Tutti A Tavola a Mangiare~
Opening Sicily- Sun at 7:30P | Starts Sep 13

The latest chapter in the TLN original ~Opening~ series features top Canadian chefs Rob Rossi and Craig Harding heading to Sicily to explore traditional Italian cuisine and the vibrant wine scene.
Neven`s Food Trails: The Basque Country – Tue at 9P | Starts Sep 15

Irish celebrity chef and TV personality, Neven Maguire discovers the Basque Country and La Rioja of Spain, two regions renowned for their vibrant cuisine and history. In each episode, Neven then returns home to Ireland to cook dishes inspired by his travels.
Mucho Movies – Fridays at 9P | Starts Sep 18

Catch a double-bill of the hottest blockbuster hits with back-to-back movies every Friday starting at 9P.
The biggest nights in Latin music are back on TLN this fall with the exclusive Canadian broadcasts of the 2020 Billboard Latin Music Awards on October 21st and the Latin Grammy Awards on November 19th
Music is the universal language that unites all cultures. Enjoy an incredible lineup of concerts featuring some of the biggest international stars including Ariana Grande, Pavarotti, Placido Domingo, Gloria Estefan, Avicii, Ricky Martin and many more
CLICK HERE for a sneak peek of TLN Television's new season line-up.
For additional information contact:
Bruna Aloe | Senior Director of Communications & Marketing | 416.744.5745 | [email protected]
 -30-
About TLN Television
TLN is the English-language specialty TV channel that adds colour to life through a rainbow of culturally connected programming and initiatives. The TLN lineup delights mainstream appetites for rich multicultural lifestyle and entertainment programming.  From international music specials and sports, exclusive and original food and travel series, to blockbuster films and unique original productions, TLN entertains and inspires a colourful life. TLN is part of the TLN Media Group family of channels.
About TLN Media Group
At 35-years young, the original single ethnic TV channel "Telelatino" has grown and evolved into TLN Media Group (TMG), an independent, immigrant-owned organization. TMG is Canada's most influential multicultural media company, connecting communities through storytelling and shared experiences.
As a multicultural advocacy leader, TMG selects, curates, produces and commissions unique and culturally significant TV and digital content distributed both in Canada and worldwide through TMG Worldwide Media Distribution.
TMG's flagship TLN TV channel has evolved into an English language friendly channel providing multiculturally rich content. Additionally, TMG operates Canada's most widely distributed foreign language TV channels led by Spanish language leader Univision Canada and top Italian language services Mediaset Italia Canada and TGCOM24 news network. TMG also launched and manages Canada's first and only Heritage language channels for kids, Telebimbi and Teleniños; EuroWorld Sport TV, a channel dedicated to sports fandom; and is active in producing and promoting cultural events and festivals.For more information visit www.tln.ca