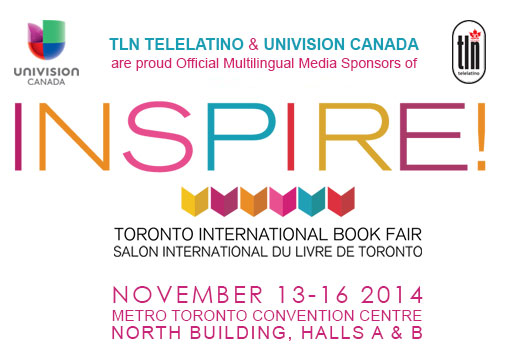 TLN Telelatino and Univision Canada are proud Official Multilingual Media Sponsors of the Inspire! Toronto International Book Fair, a celebration for book lovers in the English-language market as well as Toronto's diverse language communities. Inspire will host international, national, regional and local exhibitors with a special focus on Canada's growing Hispanic community featuring 8 Latino Authors in the lineup anchored by Cuban-Canadian television personality, Ismael Cala.
Featuring a special session with Cuban-Canadian television personality and author ISMAEL CALA
Saturday November 15 at 1P – Spark Stage

As part of the Latin lineup, TLN and Univision Canada are also proud to present a special session with Ismael Cala as he presents his new book, El Poder de Escuchar on the Spark stage on Saturday November 15 at 1P and reunites with his Canadian fans after taking part in the Salsa in Toronto Festivities this past summer as the festival's official international ambassador.
Ismael is considered among his audience and peers as the "Larry King Latino" and has a large multinational following of more than 3 million on his social media platforms across the USA, Mexico and Latin America. Before relocating to the USA, Ismael's first home outside Cuba was Toronto and his first broadcasting job was with TLN Telelatino Network where he hosted his own Spanish and English language variety-talk shows.