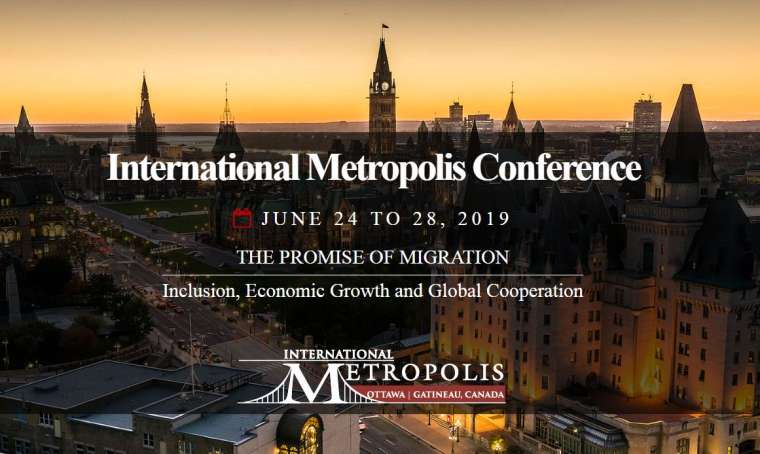 TLN Media Group Partners with the International Metropolis Project to present the 2019 International Metropolis Conference
June 24 to 28 at the Shaw Centre in Ottawa/Gatineau
(Toronto, ON – June 19, 2019) TLN Media Group and the International Metropolis Project present the 23rd annual Ottawa International Metropolis Conference from June 24-28.
The conference is the largest annual international gathering of world experts from academia, government and civil society in the fields of migration, integration and diversity, welcoming approximately 1200 delegates from 52 countries.  The week-long program will reflect both Canadian and international strategies as well as best practices and scalable solutions.
Aldo Di Felice, TLN Media Group President: "We are proud to partner with the International Metropolis Project to promote immigration, inclusion, economic opportunity and global cooperation between delegates and governments in a collaborative international setting. The International Metropolis Conference is one of many examples of TLN Media Group's commitment to supporting the growth of multiculturalism in Canada."
Distinguished Professor Paul Spoonley, Massey University, Auckland, and Co-chair of the International Metropolis Project: "As part of the International Metropolis Project and Steering Group, we look forward to this year's International Conference in Ottawa, Canada. The conference always provides significant insights and proposals concerning migration and settlement."
Professor Jan Rath, University of Amsterdam, the Netherlands, and Co-chair of the International Metropolis Project: "Exchanging knowledge and experiences across disciplines and national boundaries and — in so doing — enhancing migration and integration policy wherever in the world is what the International Metropolis Project aims to do. We are looking forward to what seems to become a fascinating and successful conference"
For additional conference details and to register go to: InternationalMetropolis2019.ca │ tln.ca
For more information contact:
Bruna Aloe, TLN Media Group – Senior Director, Marketing and Communications | 416.744.5745 | [email protected]
Enrico del Castello, International Metropolis Conference – Director, International Metropolis Conference Project | [email protected]
-30-

About TLN Media Group
TLN Media Group is Canada's most influential multicultural media company, connecting cultures on television, online and in communities through storytelling and shared experiences. In addition to TLN, its flagship English-language channel, the company also offers Canada's most widely distributed foreign language television channels led by #1 Hispanic channel Univision Canada and #1 Italian Mediaset Italia. Additional Italian channels include TeleBimbi and TGCOM24. The family of Spanish channels is made up of Teleniños and a group of four leading foreign services; Cinelatino, Wapa TV, Television Dominicana and Centro America TV. TLN also operates English-language specialty channel EuroWorld Sport. A leader in supporting and developing Canadian multiculturalism, TLN Media Group produces and commissions hundreds of unique and culturally significant Canadian-made programs each year. 

About International Metropolis Conference
The International Metropolis Project (IMP) is the largest international network of researchers, policy makers, and community groups engaged in identifying, understanding, and responding to developments in migration and diversity. The European and Canadian apolitical initiative has successfully held annual conferences around the world for the last 22 years, effectively connecting researchers, key decision-makers, and practitioners around the globe. IMP's network has steadily developed to include partners in North America, Europe, and Australia, with a growing presence in Africa, Latin America, and the Asia-Pacific region.