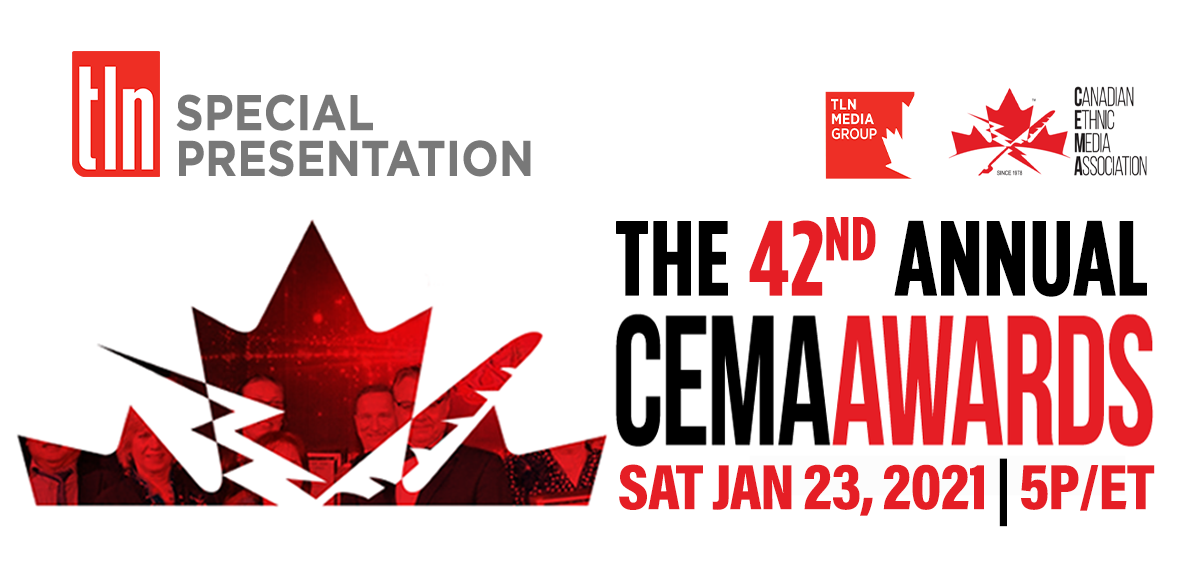 A TLN Special Presentation: The 42nd Annual CEMA Awards
Sat, Jan 23, 2021 | 5P/ET
TLN Media Group Canada's most influential multicultural media company is proud to partner with Canadian Ethnic Media Association (CEMA) to present the 42nd Annual CEMA Awards for Journalistic Excellence on TLN Television, Saturday, January 23 at 5P/ET.
Through this collaboration, the best work of some of Canada's top multicultural journalists over the past year will be showcased from coast-to-coast in a special 90-minute television presentation.
As multicultural media leaders that have championed the production of culturally significant TV and digital media for nearly 4 decades, TLN Media Group is proud to partner with CEMA to celebrate the hard-earned achievements of professionals alike in the multicultural media industry.
The CEMA Awards recognize outstanding achievement in the categories of Print, Radio, Television, Internet, Podcast News, Podcast Feature, Documentary, Innovation, and, new this year, Community Engagement.
This year's CEMA winners are:
PRINT
Joanna Chiu, Journalist, Toronto Star, for Confessions of a Model Minority
RADIO
Dora Konomi, and Irene Anargyrou, Hosts/Producers, Doralicious Show, Agape Radio for Save Baby Michael
TELEVISION
Raul Dudnic, Producer, Noi Romanii, OMNI Television for The Ethnic TV Producers
INTERNET
Camille Dundas, Editor-in-Chief, ByBlacks.com for The Allyship Series
PODCAST – NEWS
Ed Gough Jr., aka Dr. Vibe, Producer/Co-Host, The Dr. Vibe Show, for R U Listening? The Black Community Speaks! Politicians Listen!
PODCAST – FEATURE
Renato Zane, Producer/Anchor for Covid: Coast-to-Coast
DOCUMENTARY FILM
Les Sereda and Steve Glassman, Producers/Directors for Dancing on Eggshells. The Making of Shumka's Ancestors and Elders
INNOVATION
Haytham Hamad, CEO and Chief Editor, Hala Canada Media.
COMMUNITY ENGAGEMENT
Vita Shtivelman, Project Creator, Et Cetera, for "In Flanders Fields" – A Canadian Multilingual Project