One Week Away From TLN Media Group's Multilingual Coverage Of The Olympic Games Tokyo 2020
Featuring Daily Italian and Spanish language soccer coverage and Olympic Games Highlights
Italian and Spanish-Speaking Canadians will enjoy live play-by-play soccer coverage and daily Olympic highlights on TLN, and Univision Canada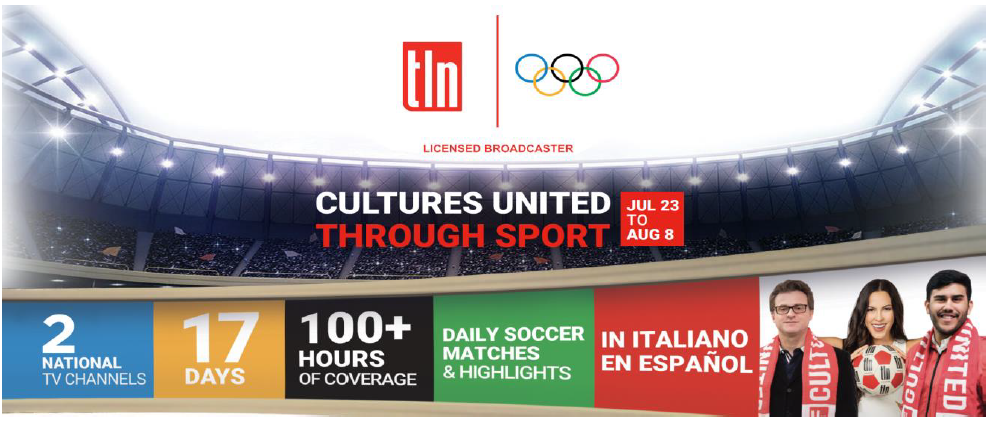 (Toronto, ON) July 14, 2021 – Connecting cultures through sport, the Olympics are returning to TLN Media Group! Through a partnership with CBC/Radio-Canada – Canada's Olympic network– TLN Media Group is an Official Licensed Broadcaster of the Olympic Summer Games Tokyo 2020, providing live coverage in non-official languages.
From July 23 to August 8, TLN Media Group will deliver 100+ hours of men's and women's Olympic soccer, as well as daily Olympic highlights in Italian and Spanish to Canadians from coast to coast on TLN Television and Univision Canada.
"We are fortunate to continue our 37-year track record of bringing Canadian multiculturalism to life on TV," said TLN Media Group President, Aldo Di Felice. "In this case by bringing our communities of viewers the sports they love in the languages they speak. The millions of Canadians who speak Spanish or Italian can watch this world event on Canadian TV with Canadian made commentary in their languages of comfort. That's diversity."
TLN's 17 days of Olympic coverage will culminate with both the women's and men's gold medal matches, on August 6th and 7th.
The colourful multicultural Olympic broadcast team includes Canadians from Italy and Venezuela:
Italian native and Mediaset Italia Canada host, Antonio Giorgi is no stranger to making the big calls and has perfected his skill working the Olympic Games Pyeongchang 2018, Euro 2016 and 2014 FIFA World Cup broadcasts
 Nelson Perez is an experienced Spanish-language broadcaster from Venezuela who will once again join the TLN Olympic broadcast team to provide the Spanish language play-by-play. Perez's love of sports broadcasting garnered him the spot as one of the lead play-by-play radio announcers during the 2014 FIFA World Cup in Brazil and he's had the opportunity to interview high profile pro athletes including David Villa and Josh Donaldson.
Click Here for the complete broadcast schedule.
For additional information contact:
Bruna Aloe | Senior Director of Communications & Marketing | 416.744.5745 | [email protected]
-30-
About TLN Media Group (TMG)
At 35 years young, the original single ethnic TV channel "Telelatino" has grown and evolved into TLN Media Group, an independent, immigrant-owned organization. TMG is Canada's most influential multicultural media company, connecting communities through storytelling and shared experiences.
As a multicultural advocacy leader, TMG selects, curates, produces and commissions unique and culturally significant TV and digital content distributed both in Canada and worldwide through TMG Worldwide Media Distribution.
TMG's flagship TLN TV channel has evolved into an English language friendly channel providing multiculturally rich content. Additionally, TMG operates Canada's most widely distributed foreign language TV channels led by Spanish language leader Univision Canada and top Italian language services Mediaset Italia Canada and TGCOM24 news network. TMG also launched and manages Canada's first and only Heritage language channels for kids, Telebimbi and Teleniños; EuroWorld Sport TV, a channel dedicated to sports fandom; and is active in producing and promoting cultural events and festivals. For more information visit www.tlnmediagroup.com.
About TLN Television | tln.ca TLN is Canada's multiculturally rich English-friendly TV Channel. Uniting cultures through shared experiences, colourful personalities take us on adventures abroad & at home in the kitchen. Add big movies, music specials & live international soccer & that's our recipe for bringing more colour into the lives of Canadians. TLN TV is a TLN Media Group TV channel available from coast to coast.