CALLING ALL COPA AMERICA FANS!
The South American Soccer Championship Kicks Off This Weekend Exclusively on Univision Canada
Sunday June 13 – Saturday July 10
(Toronto, ON – June 13, 2021) –Tune in to Univision Canada, the exclusive Canadian home of the Copa America from June 13-July 10 to watch the crown jewel of South American soccer. Univision Canada is your ticket to all the action as the world's best teams and the games top players; Messi (Argentina– FC Barcelona), Neymar(Brazil– PSG), Suarez (Uruguay– Atletico Madrid), Vidal (Chile / Inter Milan), Mina (Colombia – Everton), compete for the South American Championship.
The action kicks off with host country Brazil facing off against Venezuela Sunday, June 13 at 4:30P/et.  The Gooooal! Crazy coverage of the 28 match tournament features daily recaps and explosive Spanish language commentary.
Will your team take home the coveted title this year? Visit univision.ca for the complete tournament schedule and subscribe to our newsletter to receive daily Copa America match updates.

¡ATENCION FANATICOS DE COPA AMERICA!
EL Campeonato Sudamericano De Fútbol Comienza Este Fin De Semana En Exclusiva por Univision Canada
Domingo 13 de junio – Sábado 10 de julio
(Toronto, ON – 13 de junio de 2021) –Univision Canada se convierte en exclusiva en la sede canadiense de la Copa América 2021, la joya de la corona del fútbol sudamericano, del 13 de junio al 10 de julio. Univision Canada es tu boleto para ver toda la acción de los mejores equipos del mundo y los mejores jugadores; Messi (Argentina- FC Barcelona), Neymar (Brasil- PSG), Suárez (Uruguay- Atlético de Madrid), Vidal (Chile / Inter de Milán), Mina (Colombia – Everton), compitiendo por el Campeonato más esperado.
La acción comienza con Brasil, el país anfitrión, enfrentándose a Venezuela este domingo 13 de junio a las 4: 30P / et. ¡Golazoooo! La intensa cobertura de los 28 partidos del torneo incluye resúmenes diarios y los atinados comentarios de los mejores cronistas deportivos en español.
¿Quién se llevará a casa el codiciado trofeo este año? Visita univision.ca para ver el calendario completo del torneo y suscribirte a nuestro boletín informativo para recibir actualizaciones diarias de los partidos de la Copa América.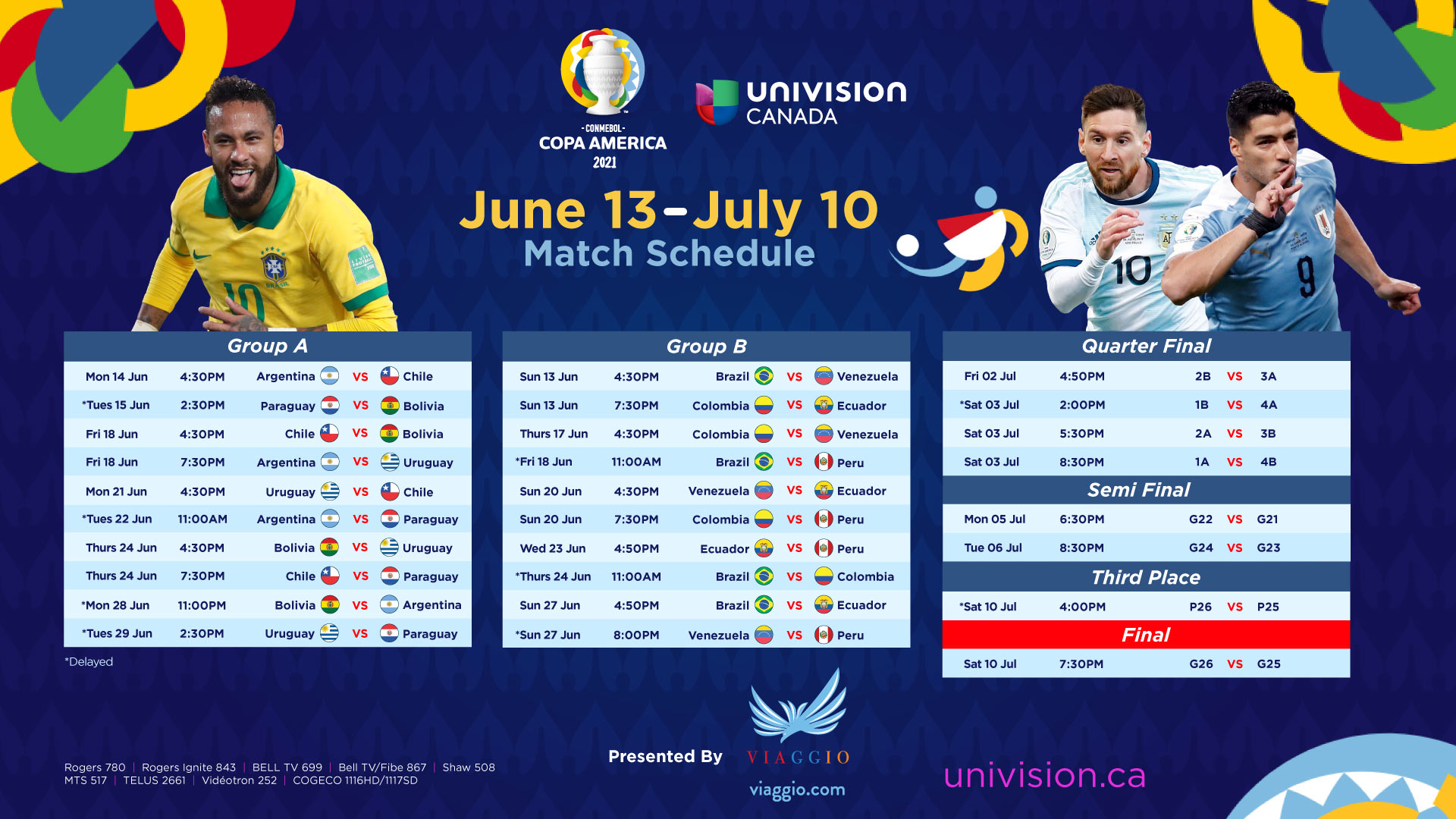 For more information contact:
Bruna Aloe, Senior Director of Communications & Marketing | 416.744.5745 | [email protected]
-30-
About TLN Media Group (TMG)
At 35 years young, the original single ethnic TV channel "Telelatino" has grown and evolved into TLN Media Group, an independent, immigrant-owned organization. TMG is Canada's most influential multicultural media company, connecting communities through storytelling and shared experiences.
As a multicultural advocacy leader, TMG selects, curates, produces and commissions unique and culturally significant TV and digital content distributed both in Canada and worldwide through TMG Worldwide Media Distribution.
TMG's flagship TLN TV channel has evolved into an English language friendly channel providing multiculturally rich content. Additionally, TMG operates Canada's most widely distributed foreign language TV channels led by Spanish language leader Univision Canada and top Italian language services Mediaset Italia Canada and TGCOM24 news network. TMG also launched and manages Canada's first and only Heritage language channels for kids, Telebimbi and Teleniños; EuroWorld Sport TV, a channel dedicated to sports fandom; and is active in producing and promoting cultural events and festivals. For more information visit www.tlnmediagroup.com.
About TLN Television | tln.ca TLN is Canada's multiculturally rich English-friendly TV Channel. Uniting cultures through shared experiences, colourful personalities take us on adventures abroad & at home in the kitchen. Add big movies, music specials & live international soccer & that's our recipe for bringing more colour into the lives of Canadians. TLN TV is a TLN Media Group TV channel available from coast to coast.