TLN SPECIAL LIVE TV EVENT ANNOUNCEMENT
FROM MILAN WITH LOVE | Sunday May 3 at 9pm/et
A Tribute To Essential Workers In Italy And Beyond Fighting Against COVID-19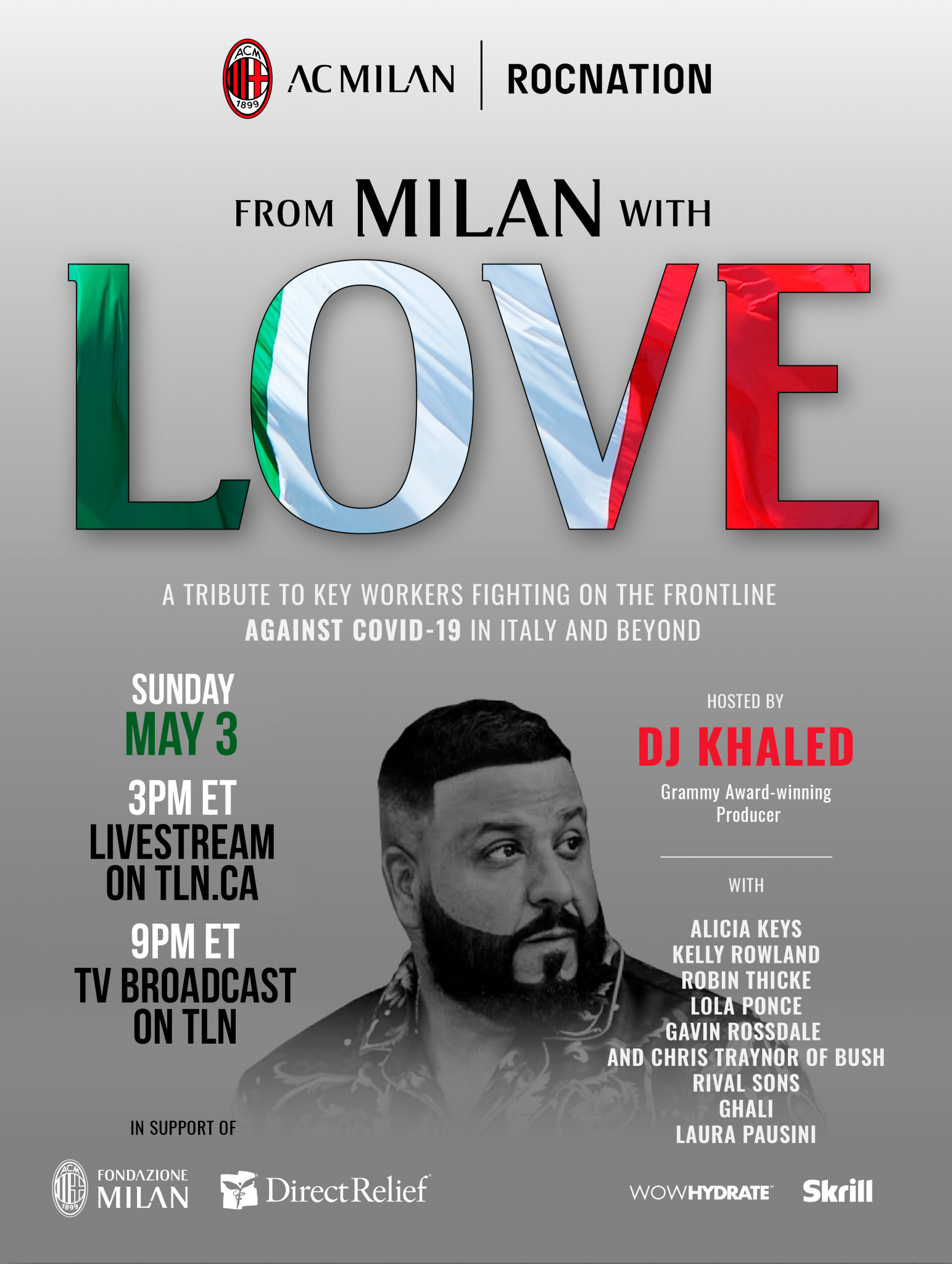 (Toronto, ON) May 1, 2020 –TLN Television, the Canadian home of Serie A Italian League soccer, will broadcast this LIVE SPECIAL organized by the AC Milan soccer organization and Roc Nation as a fundraising event and tribute to essential workers fighting the Coronavirus on the frontline in Italy and beyond. The event aims to raise funds to provide critical equipment to medical workers in Milan and around the world.
Confirmed performers and talent appearances include: DJ Khaled and Diletta Leotta (co-hosts), Alicia Keys, Jonas Brothers, Kelly Rowland, Robin Thicke, Ghali, Lola Ponce, Gavin Rossdale & Chris Traynor (Bush), Rival Sons, Novak Djokovic / Zlatan Ibrahimovic and AC Milan players (Romagnoli, Paquetà, Chalanoglu, Biglia, Bennacer).
The event promises additional surprise special appearances by big names in the worlds of sport, fashion and entertainment.
For more information, contact:
Bruna Aloe, Senior Director of Marketing & Communications
416.744.5745 │ [email protected]
– 30 –
About TLN Media Group
Originally established over 35 years ago as a single ethnic TV channel, TLN Media Group (TMG) has grown into Canada's most influential multicultural media company, connecting cultures on television, online and in communities through storytelling and shared experiences. Reaching millions of Canadians across the country, TMG is a leader in expressing and advocating Canadian multiculturalism. As a content creator, TMG produces and commissions unique and culturally significant TV and digital programs distributed both in Canada and worldwide through its TMG Worldwide Media Distribution business unit. As a broadcaster since 1984, TMG's flagship channel TLN TV has evolved into an English-language, multiculturally rich TV channel. TMG operates Canada's most widely distributed foreign language TV channels led by Spanish language leader Univision Canada and top Italian language services Mediaset Italia Canada and TGCOM24 news network. TMG also launched and runs Canada's first and only Heritage language channels for kids, Telebimbi and Teleniños. The family of Spanish language channels distributed by TMG also includes a group of four specialized foreign services, Cinelatino, Wapa TV, Television Dominicana and CentroAmerica TV. In addition, TMG operates EuroWorld Sport TV, a channel dedicated to sports fandom. TMG is also active in producing and promoting experiential cultural events and festivals. | www.tlnmediagroup.com