(Toronto, ON – April 2020) TLN Media Group – Canada's most influential multicultural media company – has expanded daily production activities in the wake of the COVID-19 health crisis to include daily interview and news coverage on both TV and digital platforms in public service to viewers across Canada.
The goal of this daily production effort is to inform, reassure and inspire communities – millions of Spanish, Italian and English speaking Canadians. These special report interviews provide viewers with updates on the health crisis as well as interesting stories and initiatives with political representatives, business and community leaders,
celebrities and exceptional individuals. These reports are available on TLN Media Group's three main TV channels, all of which are on a nationwide free preview as well as channel websites and social media accounts.
Watch featured interviews online and FOLLOW US on social for the latest coverage: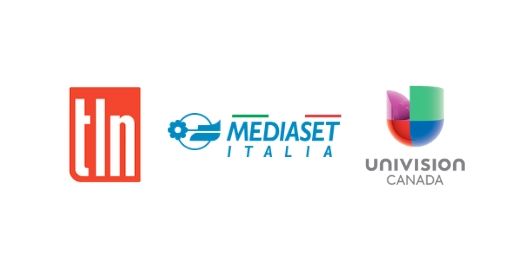 For more information contact:
Bruna Aloe | Senior Director, Communications & Marketing | 416.744.5745 | [email protected]
-30-
About TLN Media Group
Originally established over 35 years ago as a single ethnic TV channel, TLN Media Group (TMG) has grown into Canada's most influential multicultural media company, connecting cultures on television, online and in communities through storytelling and shared experiences. Reaching millions of Canadians across the country, TMG is a leader in expressing and advocating Canadian multiculturalism.  As a content creator, TMG produces and commissions unique and culturally significant TV and digital programs distributed both in Canada and worldwide through its TMG Worldwide Media Distribution business unit. As a broadcaster since 1984, TMG's flagship channel TLN TV has evolved into an English language multiculturally rich TV channel. TMG operates Canada's most widely distributed foreign language TV channels led by Spanish language leader Univision Canada and top Italian language services Mediaset Italia Canada and TGCOM24 news network. TMG also launched and runs Canada's first and only Heritage language channels for kids, Telebimbi and Teleniños. The family of Spanish language channels distributed by TMG also includes a group of 4 specialized foreign services, Cinelatino, Wapa TV, Television Dominicana and CentroAmerica TV. In addition, TMG operates EuroWorld Sport TV, a channel dedicated to sports fandom. TMG is also active in producing and promoting many experiential cultural events and festivals.
About TLN Television
TLN is the English-language specialty TV channel that adds colour to life through a rainbow of culturally connected programming and initiatives. The TLN lineup delights mainstream appetites for rich multicultural lifestyle and entertainment programming.  From international music specials and sports, exclusive and original food and travel series, to blockbuster films and unique original productions, TLN entertains and inspires a colourful life.   TLN is part of the TLN Media Group family of channels. | tln.ca
About Univision Canada
Univision Canada is the leading Spanish-language television channel delivering the best programming from the Hispanic world to Canada's 1.8 million Spanish speakers. The lineup features daily news, award-winning telenovelas, talk and reality shows, live music specials and top soccer coverage. Univision Canada is a TLN Media Group owned channel and can be seen from coast to coast in close to 2 million homes on all of Canada's largest pay TV platforms. | univision.ca
About Mediaset Italia
Featuring programming from Italy's leading TV broadcast group, Mediaset Italia brings the best of Italian TV to Canada.  The 24 hour Italian-language TV channel includes the best entertainment, variety, fiction, comedy, sports and news programming direct from Italy complemented with Made in Canada community pleasing original shows.   Mediaset Italia is a TLN Media Group owned channel and can be seen from coast to coast in nearly 3 million homes on all of Canada's largest pay TV platforms. | mediasetitalia.ca