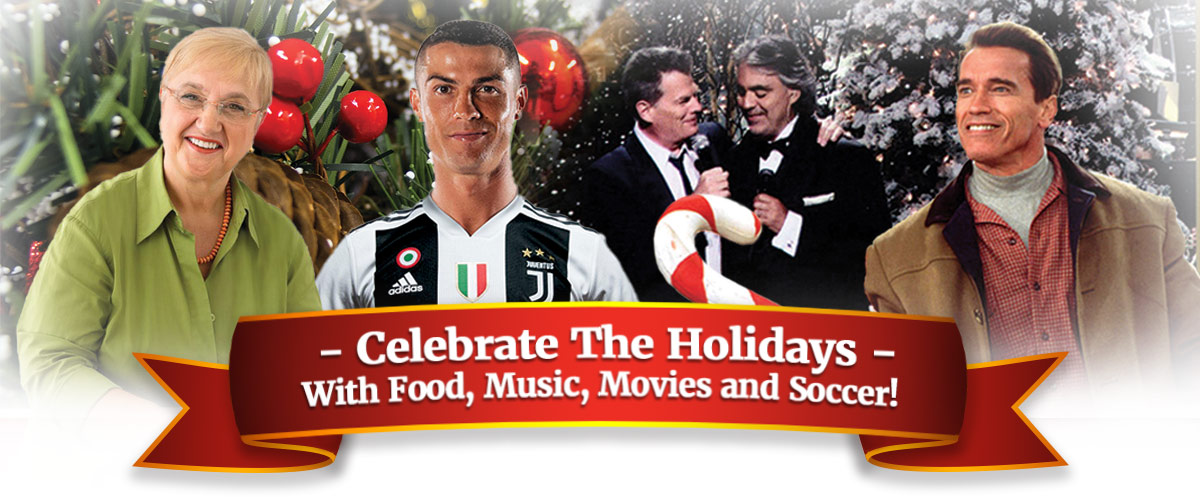 December 13, 2018
– TLN Television invites everyone to celebrate the holidays with the delights of the season! Eat, drink, be merry and kickoff the new year with festive programming guaranteed to get you in the spirit!
 Savoury Lifestyle Specials: Toast your holiday with a series of tasty specials featuring two of our favourite celebrity chefs Lidia Bastianich and David Rocco in Lidia's Christmas Kitchen, Lidia Celebrates America: Home For The Holidays and A Very Rocco Christmas 
 Magical Music Concerts: Celebrate to the tune of beautiful music concert events featuring iconic favourites The Three Tenors, Il Volo, Andrea Bocelli and more
 Holiday Mucho Movies: Cozy up with a daily double bill of holiday movie classics from Dec. 24th – January 6th starting every night at 9pm/et
 Soccer Extravaganza: December scores on TLN with an explosive SERIE A soccer lineup featuring 37 matches and a Boxing Day marathon from 9am-8:30pm
Click here to view the complete holiday highlights.
Click here to see our full holiday schedule.
Tune in to TLN TV all month long – LIMITED TIME FREE PREVIEW now on across Canada. 
-30-
For additional information contact: Bruna Aloe | Senior Director of Communications & Marketing 416.744.5745 [email protected]
About TLN Television TLN is the English-language specialty TV channel that delights mainstream appetites for rich multicultural lifestyle and entertainment programming. The TLN lineup includes international sports and music specials, exclusive original food and travel series and blockbuster films. TLN is part of the TLN Media Group family of channels and can be seen from coast to coast in 6 million homes. Available on: Rogers 35/28 | Bell TV/Fibe 700 | Shaw Direct 367/800| Cogeco 18/32/1115 | Vidéotron 250 | Shaw 65 | Telus 2659/8659