This Victoria Day weekend, TLN Media Group has you covered!
Tune into TLN TV, Univision Canada and Mediaset Italia Canada for an all-star TV lineup of a classic Serie A soccer match marathon and special event coverage all weekend long.
  Highlights

This Holiday Monday, TLN TV presents a Serie A Classic Match Marathon For Soccer Fans Across Canada
Relive the best Serie A moments of the decade – Monday, May 18th – Starts at 8am/et
TLN Television is bringing Serie A back to TV screens across Canada! It's a 12-hour Serie A classic match marathon airing Monday, May 18th, starting at 8am/et.
As we await the anticipated return of Serie A, TLN is gifting soccer fanatics the best fixtures of the past decade. Enjoy six momentous matches featuring some of the top players in the world including Ibrahimovic, Cesar and Milito and Italian World Cup champion players Totti, Gattuso, Pirlo and Buffon.
Click Here for the complete TLN Serie A Marathon lineup.

2006 FIFA World Cup: The Grand Finale – Sunday May 17 at 9am/et
TLN delivers a special presentation of the official (FIFA sanctioned) World Cup documentary from Germany 2006. Narrated by Pierce Brosnan, this one-of-a-kind documentary captures the highs and lows of all the tournament's action and drama including the thrilling Final where Italy faces off against France and is crowned World Champions. Experience it for the first time or relive it – like you were there with exclusive behind the scene footage and coverage of the legendary tournament!
Highlights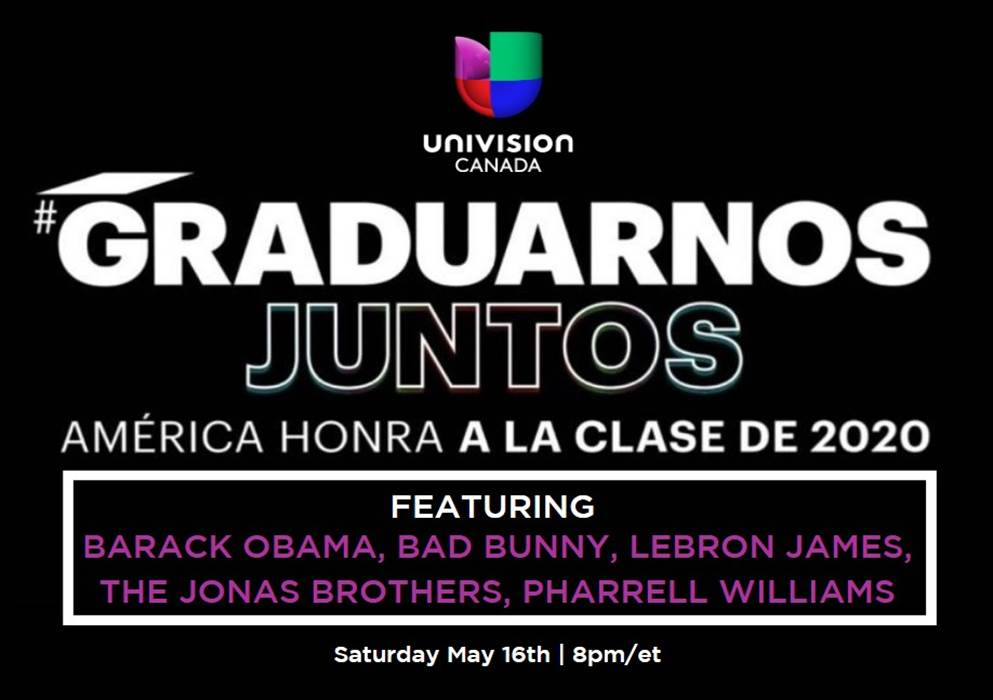 Univision Canada to Broadcast "Graduate Together: America Honors the High School Class of 2020" on Saturday, May 16 at 8pm/et
Univision Canada, the country`s leading Spanish-language TV channel, will broadcast "Graduate Together: America Honors the High School Class of 2020" – a one-hour special tribute to the millions of high school seniors across America, this Saturday, May 16 at 8pm/et.
With the COVID-19 pandemic cancelling graduation ceremonies across the nation, this special Spanish-language broadcast honours today's graduates as they prepare for the future. President Barak Obama will deliver the commencement speech and urban Latin superstar Bad Bunny, will address the graduates with help from Reggaeton Queen, KAROL G. The Spanish-language broadcast will also include a message from Univision Noticias anchors Ilia Calderón and Jorge Ramos and beloved host of "El Gordo y La Flaca" Lili Estefan.
The list of prominent leaders, educators and entertainers to participate in the event includes Lebron James, the Jonas Brothers, Pharrell Williams, Megan Rapinoe, Yara Shahidi, Olivia Wilde, Malala Yousafzai, Zendaya and many more.
For more information, visit univision.ca and follow @univisioncanada on social.
Highlights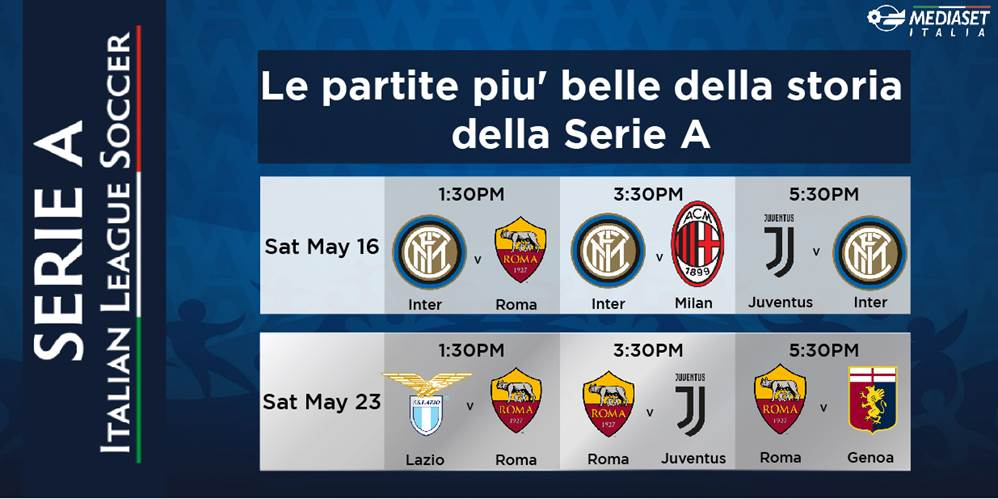 Serie A Classic Match Marathon – Saturday May 16 and May 23, Starts at 1:30pm/et
Mediaset Italia satisfies Canadian soccer fans' craving for the beautiful game with Italian-language coverage of classic Serie A matches hosted by Antonio Giorgi.
Relive every moment from the best derbies with packed stadiums and heated rivalries to the bittersweet matches that defined a generation of soccer fans.
For more info go to mediasetitalia.ca
Visit our websites for more information on upcoming TV specials and programming: tln.ca │univisioncanada.ca │ mediasetitalia.ca