Amore Al Dente

Kylie Flavell, considered "the next big thing" by Globe and Mail TV critic John Doyle, whips up the perfect mixture of comedy, nostalgia and mouthwatering Italian dishes in this TLN original series. Amore Al Dente: Classic Italian Food Stories, is a unique black and white "silent film" style vignette series blending a classic love story with passion for Italian food.

'Patrizio' comes in for an espresso at the bar where 'Kylita' is working and they speak for the first time. She offers to bring him her Chocolate, Orange and Almond Cantucci to try with his coffee. His heart and his stomach is won and he secretly leaves her a love letter underneath his espresso cup.
LOVE AT FIRST BITE
Episode 1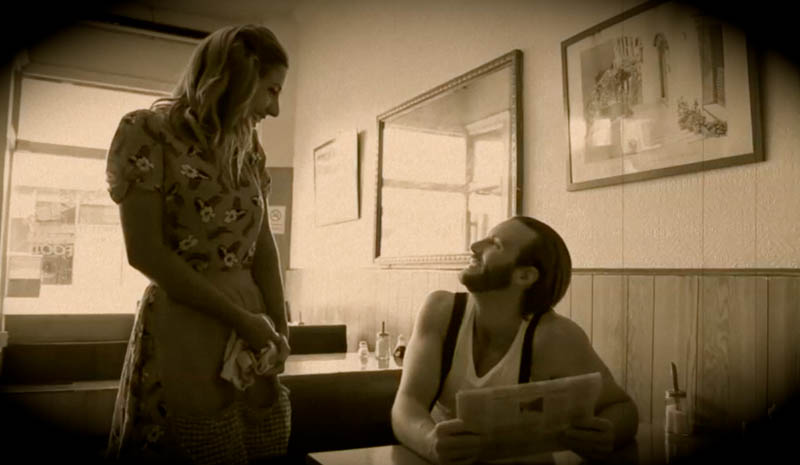 It's their first official date and Patrizio is being gallant by preparing a picnic lunch. Men weren't known for their cooking in those days so this as rustic as it comes: an Open Panino with a bottle of wine. Everything is going well until he tries to kiss Kylita at the end of the meal, confirming her suspicions that he is just like all the rest. But Patrizio picks her flowers, apologizes and wins her back.
PASSION IN THE PARK
Episode 2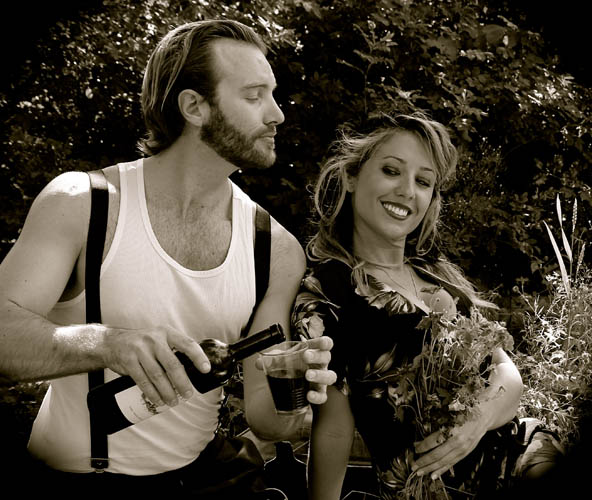 Patrizio is invited around for their second date and Kylita is cooking Ragu' alla Bolognese. To her dismay she discovers that this is Patrizio's mother's signature dish AND she only has spaghetti and not tagliatelle, as is tradition for this sauce. They are both nervous as she prepares the dinner but when he tastes the first mouthful he is in raptures, her sauce is a success and his affection for her is even stronger. Flattered that he should consider it better than his mother's Kylita becomes emotional and they kiss for the first time.
BACIO AND THE BOLOGNESE
Episode 3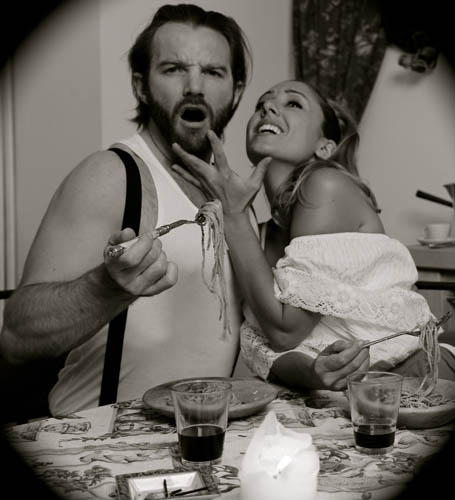 Patrizio arrives at Kylita's house and he is nervous. Her father is coming for aperitivo and Patrizio is secretly planning to ask the old man for his daughter's hand in marriage. As they wait for her father they make bread for the Crostini with White Bean, Olive and Thyme Tapenade. Once her father arrives, Patrizio tries desperately to explain the situation without ruining the surprise for Kylita but with her father being poor of hearing it seems impossible. Finally when they are all munching on crostini the old man cottons on... but now Patrizio must find the perfect way to propose...
PRE-NUPTIAL NIBBLES
Episode 4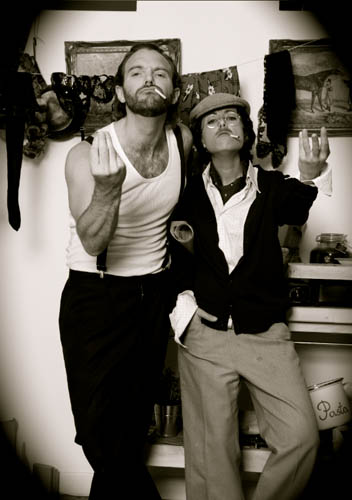 Patrizio arrives and Kylita is happily making Spinach and Ricotta Ravioli not knowing that he has a ring in his pocket and is waiting for the right moment to propose. When her back is turned, he slips the ring inside one of the raw ravioli and waits excitedly for the dinner. But when the pasta is served, Kylita notices that Patrizio hasn't eaten a thing, anxious as he is not to bite into the ring himself, and she bursts into tears offended that he doesn't like her cooking. Only afterwards when they're not speaking does she choke on a raviolo and Patrizio, overjoyed that his plan worked, thumps her vigorously until she spits out the ring. But is she ready to marry so soon?
RING IN THE RAVIOLI
Episode 5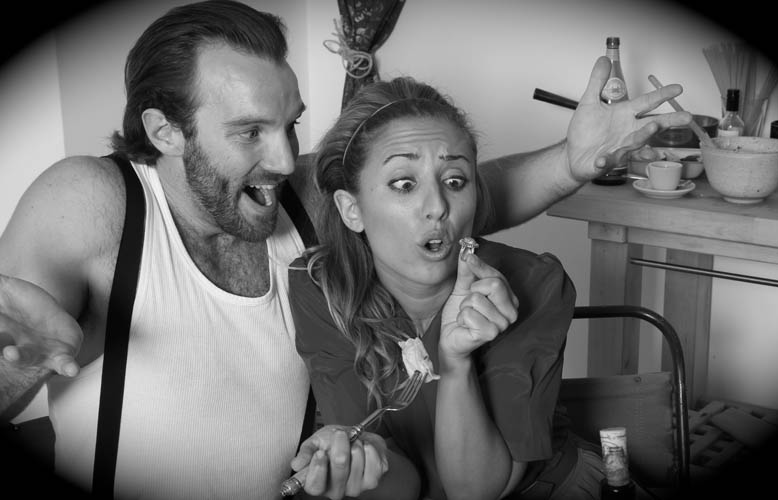 Kylita has accepted Patrizio's proposal and is hurriedly making a wedding cake before they go to the church. She is anxious and flustered, especially when Patrizio arrives and sees her in her wedding dress before the wedding. But he says he can help her with the cake and together they rush to finish a Ricotta Orange and Almond Layer Cake. When they're all ready to leave for the church Patrizio confesses that he's starving and desperately needs to eat before they can get married. Much to her dismay, she is forced to cut into the cake but his compliments over her cooking convince her of her love for him more than ever.
TYING THE KNOT OVER TORTA
Episode 6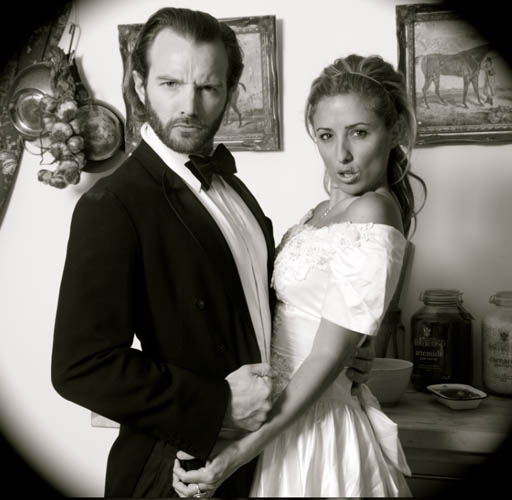 Patrizio comes through the door carrying the newly wedded Kylita in his arms and is about to head straight for the bedroom but she insists that they make a Margherita Pizza first, knowing his appetite. Although he is impatient to romance his new bride, he agrees to help her with the dough - resulting in the most passionate pizza-making ever.
MARRIAGE AND THE MARGHERITA
Episode 7

The novelty of being newlyweds has diminished a little and Kylita is starting to feel under-appreciated. When the local postman smells Kylita's Minestrone soup from outside he comes in to compliment her on the aroma. Patrizio becomes insanely jealous and a fight explodes between the three of them. Desperate to stop the fight, Kylita demands that they both sit down and eat a bowl of her soup. It calms their tempers and united in their appreciation of her cooking the two men become firm friends.
MINESTRONE AND THE MAILMAN
Episode 8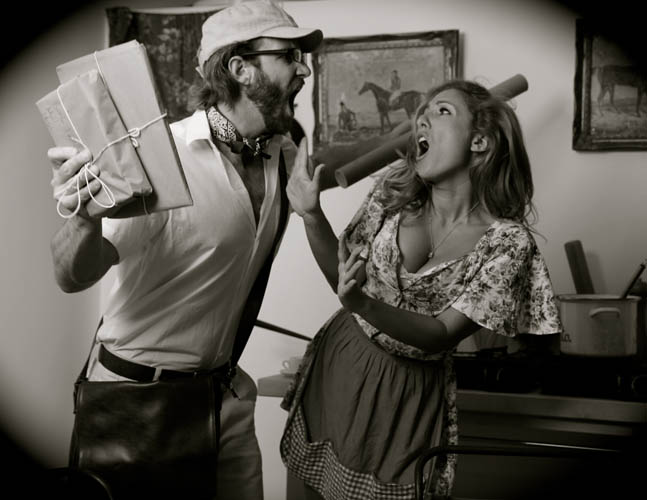 Kylita is scrubbing the floor and in a kitchen piled with dishes when Patrizio tells her he is hungry as always. She explodes, crying that there is no romance in their marriage, lamenting that all he does is eat. Taken aback by her outburst Patrizio hurriedly cleans the kitchen and for once prepares dinner for the two of them with the simplest dish he knows: the classic Carbonara. The smell of the dish and his apologies eventually placate his wife and she forgives him.
CALAMITY AND THE CARBONARA
Episode 9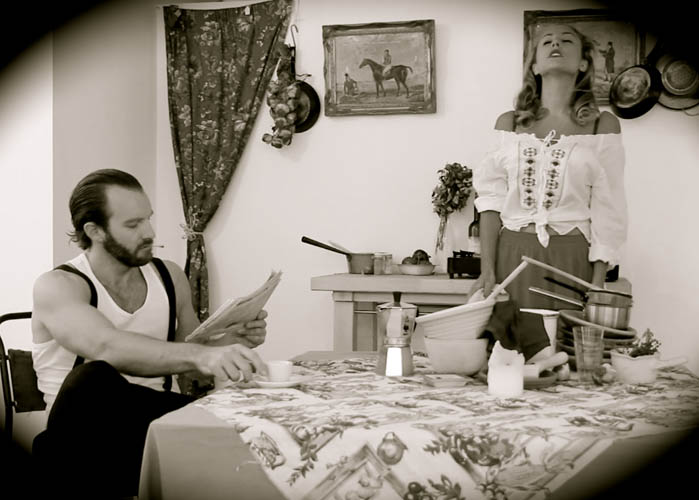 Patrizio comes home tipsy and tired and falls asleep in the kitchen. Kylita finds him and is upset because he'd promised he would take her to the cinema. He is barely conscious and falling into a deep sleep so her solution is to whip up a quick Tiramisu packed with coffee, chocolate, sugar and eggs to wake him up. It works like a charm.
TAKE ME OUT TIRAMISU
Episode 10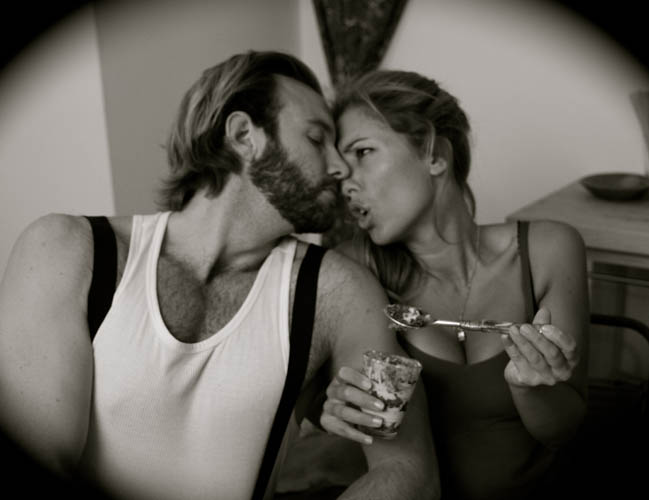 Patrizio and Kylita have finally got out of the house for a special romantic evening at the cinema. All is well but as soon as they sit down Patrizio feels that familiar rumbling and confesses to his wife that he's hungry. By now she is always prepared for his voracious appetite and happily unloads the entire contents of her kitchen onto her lap in the cinema to whip up fresh Gnocchi al Pomodoro with a gas burner on the seat next to her. People in the cinema start complaining about the noise and Kylita and Patrizio almost get into an argument but when the pasta is ready the whole cinema is seduced and everyone wants a taste!
THE NIGHT OF THE GNOCCHI
Episode 11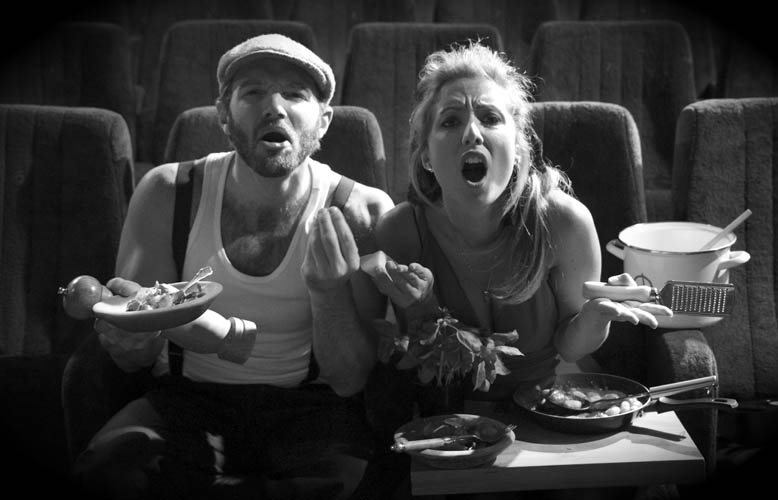 Kylita and Patrizio are at home when the butcher's wife drops in selling her wares. She flirts shamelessly with Patrizio, who is partial to a bit of guanciale (pork's cheek). Kylita is furious and in protest tells the woman to leave their house because she is making Puttanesca, a recipe which has no need for meat! The couple are silent as they eat but on tasting Kylita's pasta Patrizio swears his fidelity to his wife and her cooking
THE BATTLE OF THE BUTCHER'S WIFE
Episode 12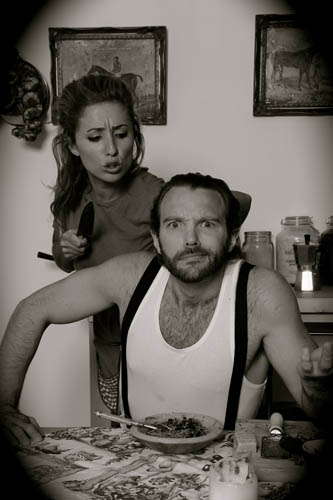 Patrizio is on his way out the door to watch the soccer game when Kylita catches him and demands that he stay and help her with dinner. She's cooking Risotto alla Milanese and so he agrees to keep stirring the rice but while distracted by the game on the radio he risks burning the risotto and infuriating his wife. Finally when his team wins he is so exuberant and affectionate that she forgives his lack of support in the kitchen.
RISOTTO VS THE RADIO
Episode 13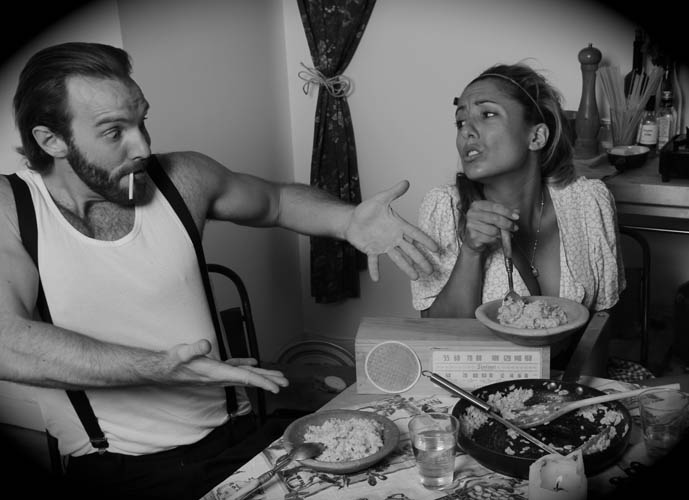 Kylita is in a dream world as she chops onions and is particularly affectionate when Patrizio comes home for dinner. He's concerned about her strange mood but can't work out why she's so giddy. Only when they are eating her Eggplant Pasta Al Forno does he demand that she tell him what's going on. She confesses: she's pregnant.
A BUN IN THE OVEN
Episode 14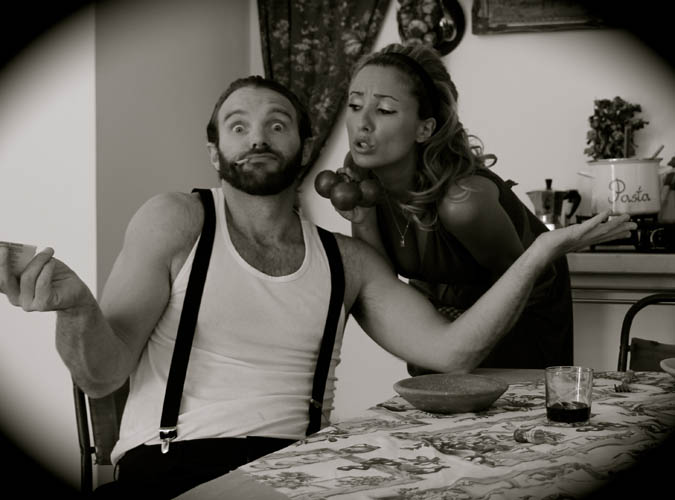 Kylita and Patrizio are in bed one night. He's sleeping soundly but she's awake with a pregnant craving for cake. She wakes him up telling him she simply must make Torta della Nonna (Lemon and Pine Nut Pie) in bed right this minute. He grumbles but obliges because she tells him it's what the bambino is asking for. But when she's grating and kneading dough on top of him while he sleeps he realises it is impossible to sleep. Only when he brings the baked cake back to feed his pregnant wife does he once again remember why he loves Kylita and they both gorge on torta in bed.
LET HER EAT CAKE
Episode 15

Kylita is quite pregnant and suddenly her water breaks in the kitchen and Patrizio flies into panic preparing them for the hospital. Just as they are about to leave the inevitable confession arrives: he's hungry and desperately needs to eat before they leave the house. Angry but resourceful, she tells him she's only got time to whip up a prosciutto, basil and mozzarella Piadina. As he suffers through his hunger pains and she through contractions, this quick snack saves the day.
PIADINA IN A PANIC
Episode 16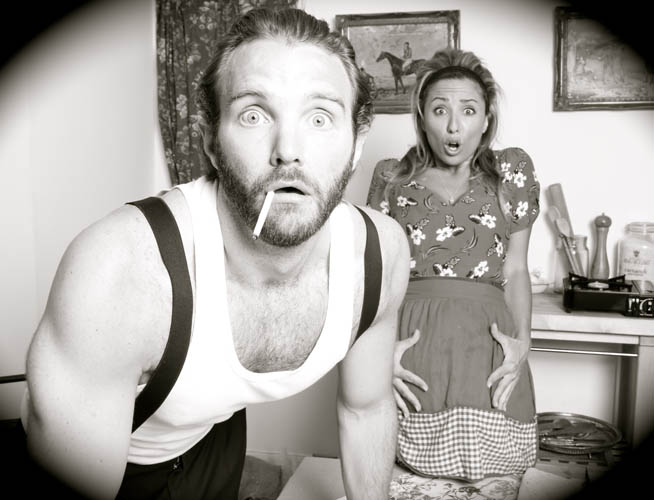 They arrive home from the hospital carrying twins and Patrizio and Kylita are happier than ever. But with her being away from home for a while the pantry is bare and all they have is stale bread. She quickly decides to make Panzanella, a stale bread salad. But the new parents are not prepared for the stress of crying twin newborns and their relationship looks set for the rocks when finally Patrizio threatens to call his mother for help!
BRINGING HOME BAMBINI
Episode 17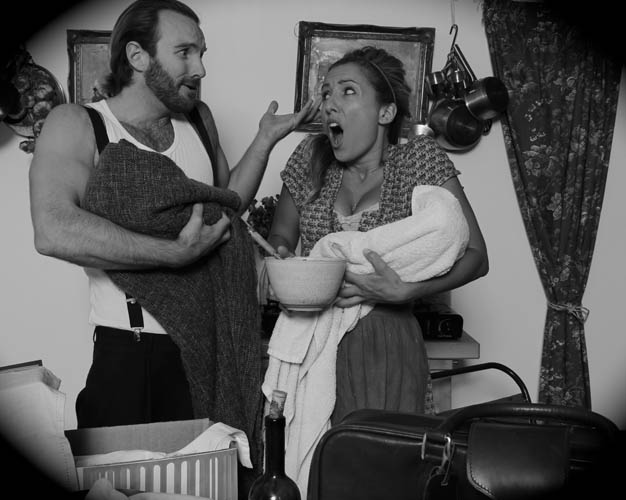 With their new twin babies, life is a little chaotic for Kylita and Patrizio. She is busy making Polpette and trying to calm one child while Patrizio takes care of the other. But when his mother arrives she wants to know why Kylita is not using her recipe for meatballs and the tension rises. Only when the three are sitting down to eat and Kylita's polpette get the seal of approval from the mother-in-law does everybody relax and enjoy the dinner.
MAMMA AND THE MEATBALLS
Episode 18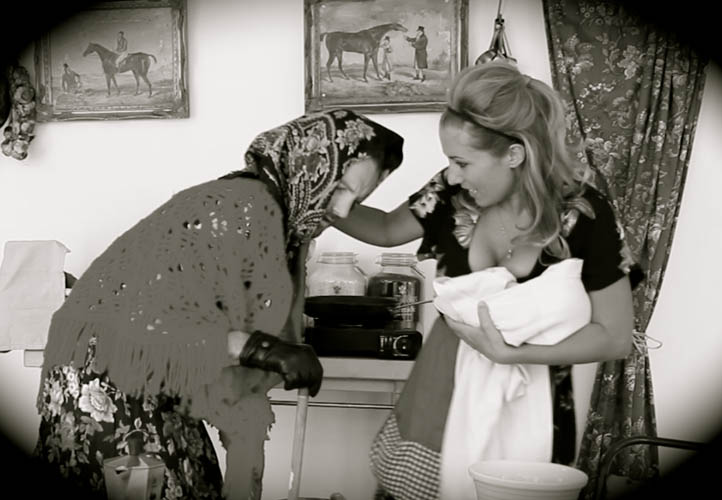 Kylita and Patrizio are at home nursing the babies when the dreaded landlord Signore Rubinelli arrives. They're late with their rent and he's throwing them out on the street. The couple are panicked and Kylita says she will do anything to change his mind. Patrizio is concerned about the implications of this plea and desperately suggests the landlord stay for dinner, knowing that his wife's Linguine alla Genovese (oasta with green beans, potato and pesto) is sure to win him over.
LINGUINE AND THE LANDLORD
Episode 19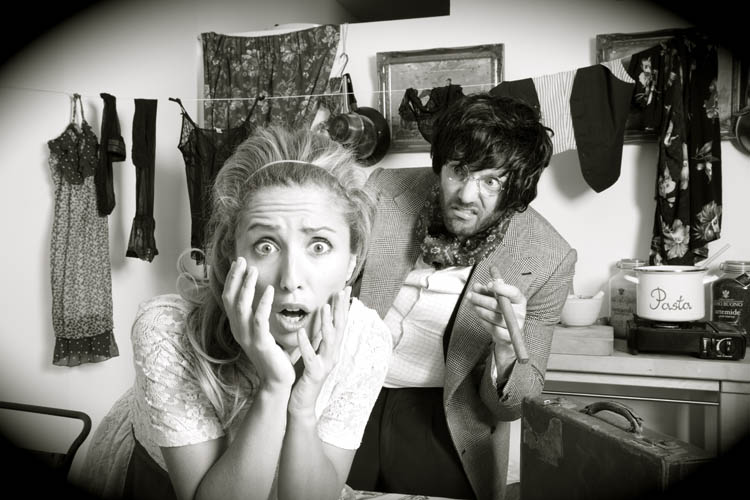 Patrizio comes home to find his wife exceedingly attentive and when she tells him she has a little surprise he's intrigued. She insists that they have dinner first. As she rolls the Suppli (mozzarella-filled risotto balls) he chats away but she seems quite nervous. When they sit down to eat he notes the surprise must be the mozzarella hiding inside the suppli. But she shakes her head and tells him, the surprise is that she's pregnant again.
SUPPLI AND A SURPRISE
Episode 20