(Toronto, ON – August 1, 2023) – TLN Media Group is a proud annual partner of Italfest MTL (August 4-20), which celebrates the richness and diversity of Italian culture and its contributions to the city of Montreal!
As part of TLN Media Group's ongoing commitment to the Italian Canadian community that it has served for nearly 40 years as a multicultural media leader, Canada's largest curator of Italian films, and most prominent producer of Original Canadian multicultural content, we are celebrating Ferragosto with our Montreal community with special screenings of two original documentaries and a feature Italian subtitled film as part of this year's festival.
TLN ORIGINAL - ITALOFOBIA: L'ESODO DAL QUEBEC
AUG 15 - 7:30P/ET
Leonardo Da Vinci Centre
Piccolo Theatre
AUG 16 - 7:30P/ET
Collège Gérald-Godin
Salle Pauline Julien
TLN Original documentary Italofobia: L'Esodo dal Quebec directed by award-winning Montreal native Anthony Sarracco, sheds light on the history of the Italian Canadian immigrant experience in Québec and explores the key themes of sovereignty and assimilation that forced a mass exodus from the province. It not only examines a chronology of events but goes beyond the headlines in a critical analysis of the sociological correlation between new immigrants and the stigma associated to them, juxtaposing the fears other cultures may have felt toward Italians in Quebec with the actual contribution, hard work, and creativity of this community. The documentary archives a particular moment in Quebec's history that many in the community know nothing about but should be aware of.
TLN ORIGINAL - GUIDO NINCHERI: IL MICHELANGELO CANADESE
AUG 15 - 7:30P/ET
Collège Gérald-Godin
Salle Pauline Julien
AUG 16 - 7:30P/ET
Leonardo Da Vinci Centre
Piccolo Theatre
AUG 19 – 7:30P/ET
Casa D'Italia
Salle des Célébrations
Often referred to as Canada's Michelangelo, this TLN original documentary produced in collaboration with Colombian born – Canadian, award-winning Director, Jaime Escallon-Buraglia, is an up close and personal examination of Guido Nincheri and his paintings, sculptures, and stained-glass creations, which can be found in over 200 churches across North America. Nincheri's studio and collection of works were left to his grandson, Roger, who retired in 2007 and was asked to take stock of his grandfather's works. Roger was able to capture over 175 churches, but an unfortunate eye injury interrupted his journey. His hope was to visit one last church in Quebec: St. Anne Varnes, which he believed would be crucial to understanding his grandfather's work. The documentary follows Roger, now in his mid 80's, as he gets the chance to travel to St. Anne Varnes and complete the story of Guido Nincheri.
TLN FEATURE PRESENTATION - BEATA IGNORANZA (IGNORANCE IS BLISS)
AUG 16 - 7:30P/ET
Casa D'Italia
Salle des Célébrations
AUG 19 - 7:30P/ET
Leonardo Da Vinci Centre
Piccolo Theatre
Ernesto and Filippo, two high school teachers, couldn't be more different: Filippo is a cheerful liberal who is constantly online. Handsome and youthful, he is a serial seducer on the social networks. Instead, Ernesto is a stern conservative, rigorously computerless. He is probably the last person around who still has a first-generation cell phone, and his teaching methods are very traditional. They used to be best friends, but an unresolved fight kept them far apart, until the day fate intervened, and they found themselves teaching at the same school. Their opposite viewpoints will soon and inevitably lead to a new clash. The internet will force them to deal with their past, which resurfaces in the shape of Nina, a young woman who conducts an experiment on them: Filippo must try to leave the world of Internet and Ernesto must try to enter it.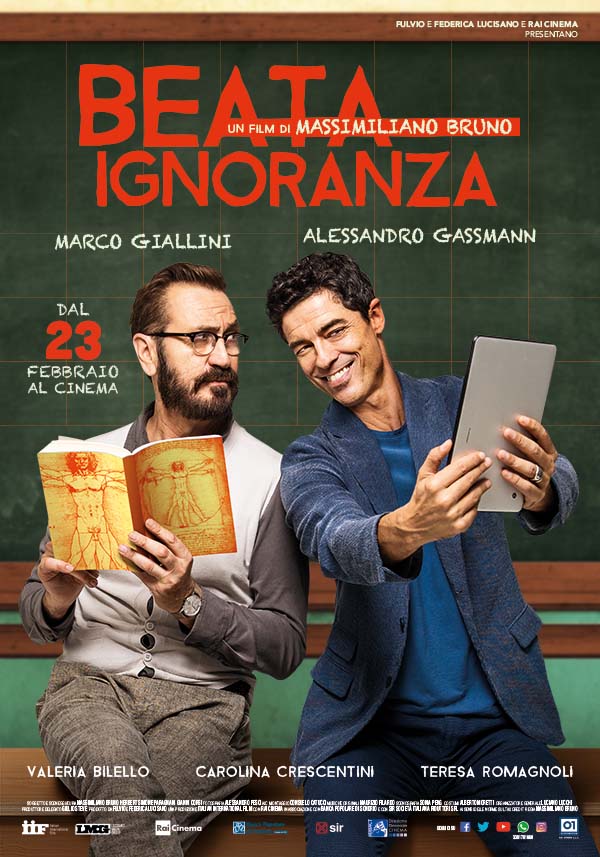 About TLN Media Group
About TLN Media Group Nearing 40 years of service to Canadians, the TLN Media Group organization brands continue to inform and entertain millions. Whether in Italian, Spanish, English and other languages, TLN has played a key role in the development of the national multicultural media landscape. Since launching in 1984, the original ethnic TV channel "Telelatino" has grown to become TLN Media Group, Canada's most influential multicultural media company. TLN Media Group is an independent, immigrant-owned organization dedicated to connecting communities through storytelling and shared experiences. As a multicultural advocacy leader, TLN Media Group selects, curates, produces, and commissions unique and culturally significant TV and digital content distributed in Canada and worldwide. TLN TV, the original flagship channel has evolved into a mainstream-friendly destination providing multiculturally rich content. TLN Media Group also operates Canada's most widely available multilingual TV channels led by Spanish language leader Univision Canada and top Italian language services Mediaset Italia Canada and TGCOM24 news network. And TLN Media Group's additional TV channels include Canada's first and only Heritage language channels for kids, Telebimbi (Italian) and Teleniños (Spanish), bringing well-known Canadian-made kids shows to families nationwide; and EuroWorld Sport TV, a channel dedicated to sports fandom. TLN Media Group has produced and promoted many cultural events and festivals, the most widely recognized of which is the annual TD Salsa in Toronto/Salsa on St Clair summer festival and street party.
About TLN Television
TLN is the television destination for putting more colour in your life! We are home to programs that unite cultures through shared experiences and memorable moments. Delightful personalities take us on scenic adventures in far off places and at home in the kitchen. Add big movies, music specials and regular live international soccer and this is our recipe for bringing more fun, more joy and more colour into the lives of millions of Canadians. TLN Television is part of the TLN Media Group family of channels and is available in nearly 6 million homes across Canada.
About Mediaset Italia
Featuring programming from Italy's leading TV broadcast group, Mediaset Italia brings the best of Italian TV to Canada. The 24 hour Italian-language TV channel includes the best entertainment, variety, fiction, comedy, sports and news programming direct from Italy complemented with Made in Canada community pleasing original shows. Mediaset Italia is a TLN Media Group owned channel and can be seen from coast to coast in nearly 3 million homes on all of Canada's largest pay TV platforms.